Our gift to you: a FREE copy of our best-selling book, Making Websites Win
Making Websites Win is an Amazon #1 best-seller in 15 categories.
A goldmine of the best conversion advice, it has been recommended by Google, Facebook, Microsoft, Moz, Econsultancy, and many more industry leaders.
Right now, it's available for purchase, in paperback, hardcover, and Kindle (you can buy it here). However, as our gift to you…
It's yours for FREE, when you subscribe to our newsletter.
Subscribe below to instantly download the entire book—all 354 pages—in your preferred format.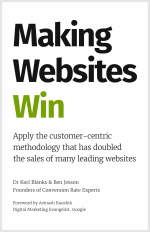 We'll treat your email address with the utmost respect and won't sell it, rent it, or let it stay up past its bedtime watching horror movies.
---
© 2020 Implementra Limited trading as Conversion Rate Experts. All rights reserved.