Win Report: How four bullets increased subscriptions by 39%
Published: November 2023
The following is part of our
Win Reports
series, providing an "under the hood" look at how we apply the
CRE methodology™
to grow our clients' businesses—revealing the research we conduct, ideas we create, tests we run, and insights we provide.
In the next three minutes,
we'll show you how adding four research-backed bullet points to a product page increased new subscriptions
for
Optibac
, the UK and Ireland's most recommended brand of probiotic supplements.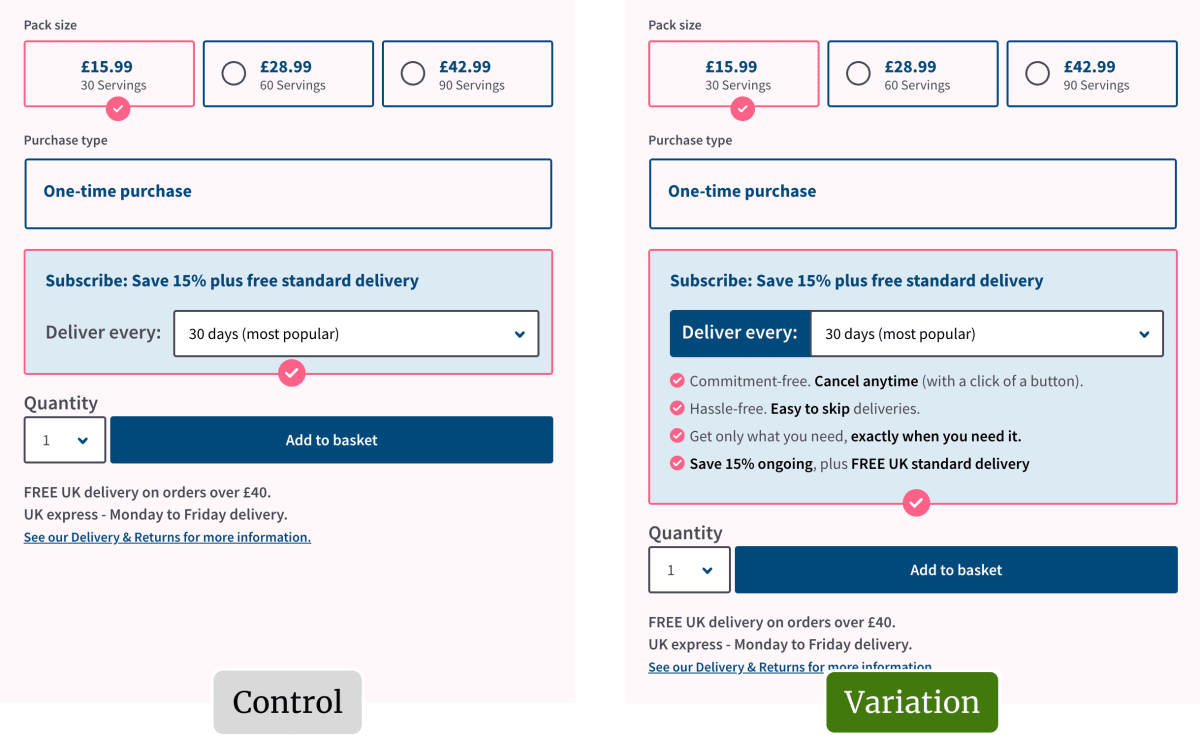 Optibac have been recognized with the Queen's Award for Enterprise, the UK's highest award for business.
Research: Uncovering the big objection
In addition to selling one-off products, Optibac offers customers a "win-win" subscription service. Customers get lower prices and never need to worry about running out. Optibac gets higher repeat revenue and steadier cash flow.
A subscription should be an easy "yes" for regular customers, but our research uncovered a big objection within that group. They were concerned about being locked into a long-term commitment. They said things like:
"I'm worried that I'll end up with too much, and it'll be a hassle to cancel my subscription."
"I didn't want to commit beyond a short supply because I don't always remember to use this kind of thing."
"I can't afford to buy them regularly and didn't want to end up with a surplus if I forgot to take them."
How could we reassure customers that subscribing makes sense?
The original page (or control)
In reality, Optibac subscriptions are easy to skip or cancel—but the original product pages weren't making that clear.
Here's the original page for Optibac's Baby Drops product: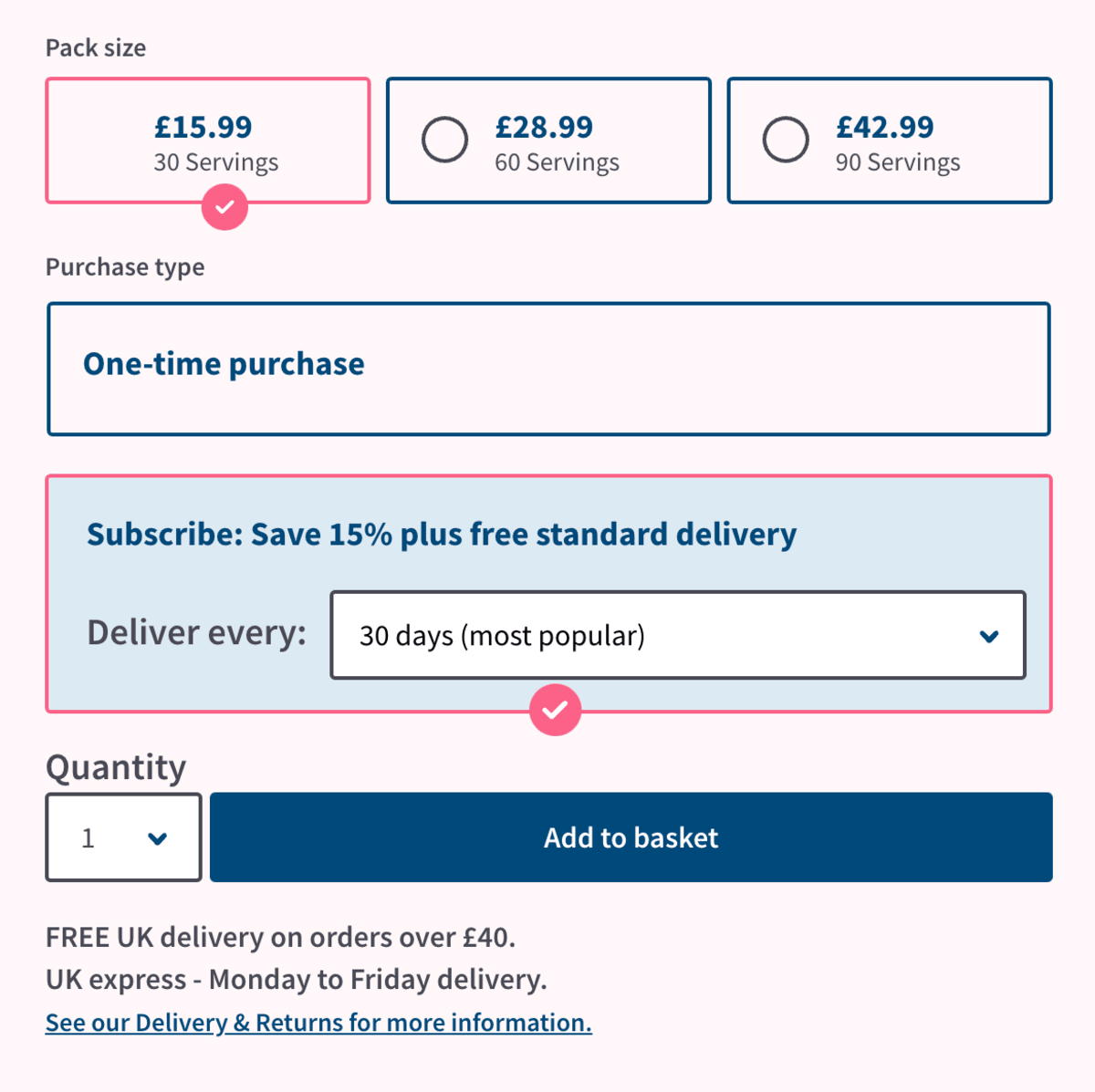 The tested page (or variation)
After establishing a hypothesis, we created a variation that:
Tackled the BIG objection (and opportunity) first: Although our research had cataloged 24 separate objections, the concern around "commitment" accounted for 20% of the responses.

Presented reassurance at the moment of truth: We added our reassurance bullets right next to the point of conversion, addressing the objection as it happens. (The content itself wasn't new—we repurposed it from other parts of the website.)

Reflected the customer's language: In addition to uncovering objections, our research captures the voice of the customer—the specific language Optibac's customers use to describe their concerns. Words like "commitment" and "hassle" arose repeatedly in our interviews, so our first two bullets directly addressed those terms.

(As we say on page 82 of our Amazon #1 best-selling book, Making Websites Win: Winning web businesses understand their customers better than their competitors do.)

Emphasized the ease of cancellation: Because users saw cancellation as a "hassle," we added a simple, concrete visual to the first bullet point: "Cancel anytime (with a click of a button)."
Here's what the variation looked like: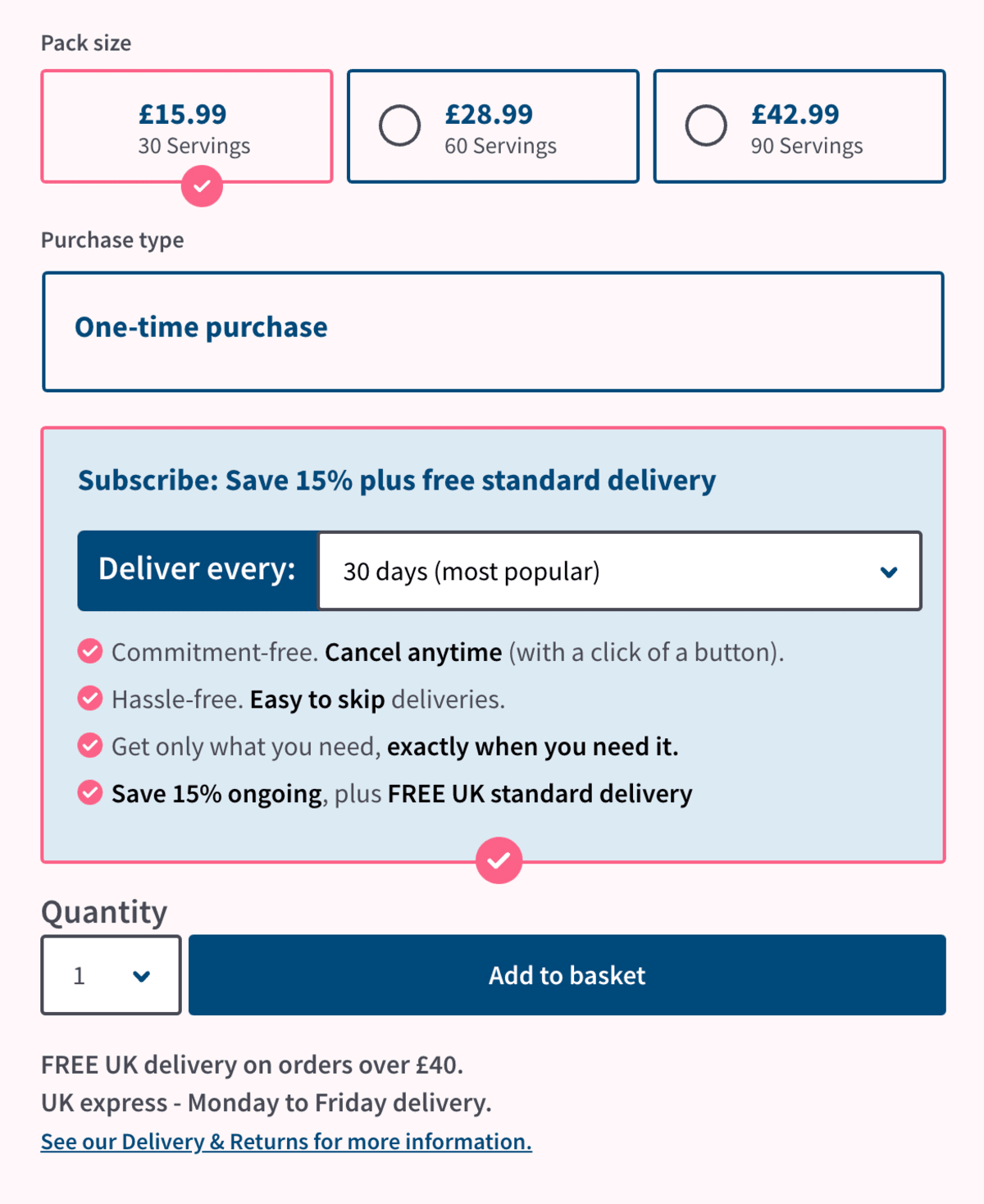 Result: New subscriptions increased by 39%
During the test, we observed a 39% increase in new subscriptions.
We add every successful test to our proprietary Wins Database, then look for ways to apply the lessons to other clients.
If you want us to grow your profits—quickly and efficiently—check if you qualify for a free one-on-one strategy session with one of our CRO consultants.
We'll only work with you if we believe we can get amazing results together. Our success has come entirely from positive word of mouth, and we plan to keep it that way.
Thanks to Optibac for letting us share these insights (and for being such a great team to work with).
How much did you like this article?
---
What's your goal today?
1. Hire us to grow your company
We've generated hundreds of millions for our clients, using our unique CRE Methodology™. To discover how we can help grow your business:
Schedule your FREE strategy session
2. Learn how to do conversion
Download a free copy of our Amazon #1 best-selling book, Making Websites Win, recommended by Google, Facebook, Microsoft, Moz, Econsultancy, and many more industry leaders. You'll also be subscribed to our email newsletter and notified whenever we publish new articles or have something interesting to share.
Browse hundreds of articles, containing an amazing number of useful tools and techniques. Many readers tell us they have doubled their sales by following the advice in these articles.
Download a free copy of our best-selling book
3. Join our team
If you want to join our team—or discover why our team members love working with us—then see our "Careers" page.
4. Contact us
We help businesses worldwide, so get in touch!
---
© 2023 Conversion Rate Experts Limited. All rights reserved.