Introducing Price Optimization Analysis: The data‑driven way to reach peak profits Pricing is one of the most surefire ways to increase a company's profits. We know because we've used pricing strategies to transform our clients' businesses—in many cases, with increases of over 50%, 100%, or more.
Yet many companies feel pricing is hard and high‑risk. That's why they avoid the tough decisions, ceding control to their competition, their customers, or their fear of making mistakes. "If it isn't (catastrophically) broken, don't fix it."
To remove the stress and guesswork—and to help unlock game‑changing profits—today we're introducing a robust, data‑driven approach to pricing. We call it Price Optimization Analysis.
The fastest way to reach "peak" revenue
Every product or service has a unique price‑revenue curve. The curve—which often looks like a mountain—shows potential revenue across a range of price points. Your goal should be to get from your current price to your optimal price—the peak of the mountain.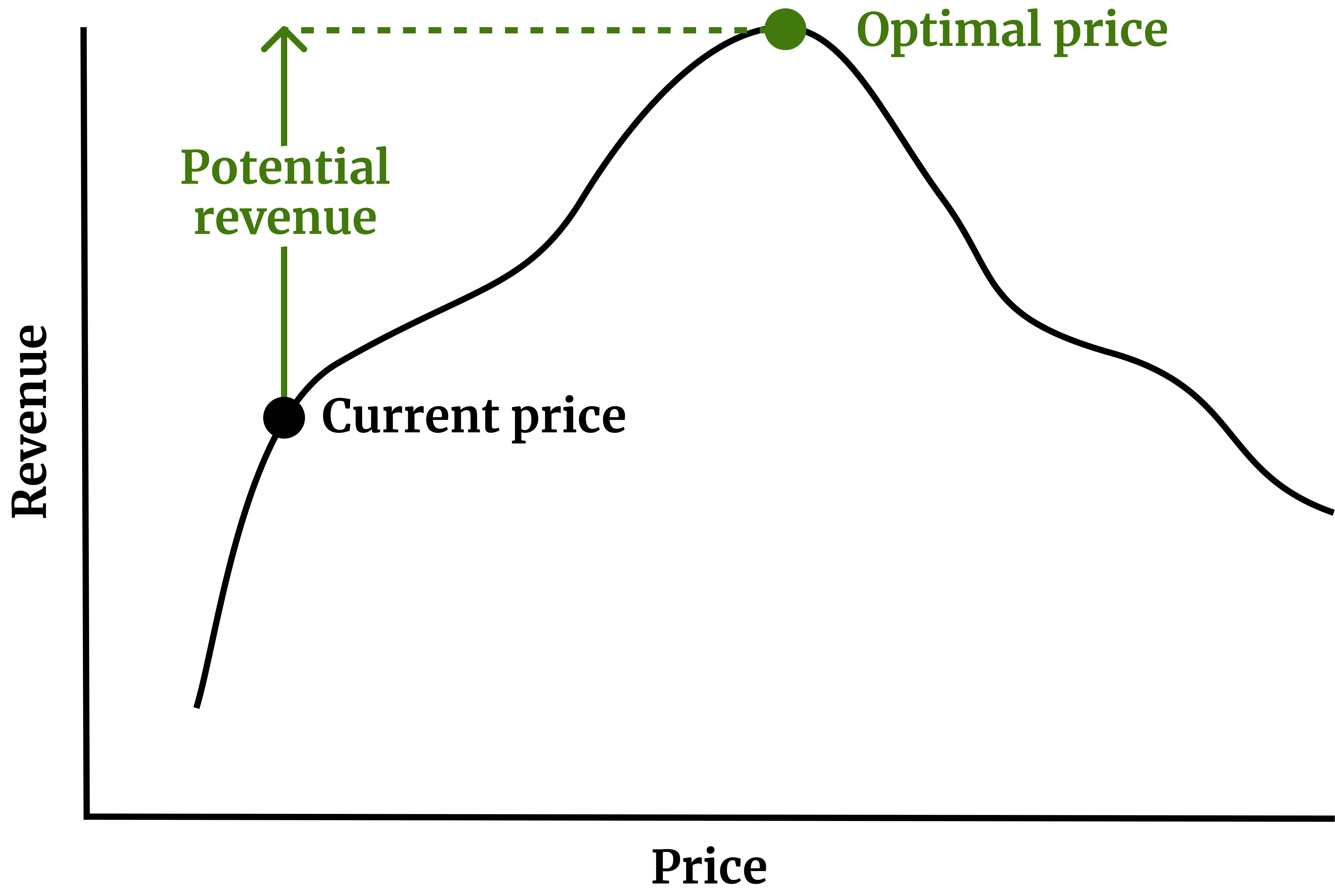 In reality, though, most companies have no idea what their mountain looks like, let alone their distance from the top. Without an accurate "map," pricing strategy can resemble a high‑stakes game of pin the tail on the donkey, powered by blind hunches, groupthink, and guesswork.
Price Optimization Analysis is different. We use survey‑based statistical techniques to model your price-revenue curve, then systematically validate its predictions.
Some products or services generate more money through higher prices; others do better when we lower prices to stimulate demand. There is always a sweet spot, and Pricing Optimization Analysis takes you directly there. It's low‑risk, high‑reward, and 100% guesswork‑free.
Imagine the clarity it brings to the boardroom, let alone the benefit to the bottom line.
Our clients are already seeing amazing results
Price Optimization Analysis takes you to the peak without risk or delay.
Some of our clients had early access—here's what we found:
For a subscription business locked in a price war, we learned that increasing prices by 51% would increase revenue by 16% (and free them from the race to the bottom).
For a SaaS company, we learned that an increase in plan prices would generate 17% revenue growth.
For a services company, we learned that a price increase of 234% would reduce sign-ups by just 22%, growing their revenue by 160%!
Furthermore, none of these revenue increases require new product development, infrastructure changes, or capital investment.
The revenue is just sitting there, waiting to be claimed.
For now, we're making Price Optimization Analysis available, at no extra cost, as part of our CRE Methodology™. Price Optimization Analysis doesn't just tip the playing field; it changes the game.
If you want to grow your profits quickly and efficiently, contact us.
---
What's your goal today?
1. Hire us to grow your company
We've generated hundreds of millions for our clients, using our unique CRE Methodology™. To discover how we can help grow your business:
Schedule your FREE strategy session
2. Learn how to do conversion
Download a free copy of our Amazon #1 best-selling book, Making Websites Win, recommended by Google, Facebook, Microsoft, Moz, Econsultancy, and many more industry leaders. You'll also be subscribed to our email newsletter and notified whenever we publish new articles or have something interesting to share.
Browse hundreds of articles, containing an amazing number of useful tools and techniques. Many readers tell us they have doubled their sales by following the advice in these articles.
Download a free copy of our best-selling book
3. Join our team
If you want to join our team—or discover why our team members love working with us—then see our "Careers" page.
4. Contact us
We help businesses worldwide, so get in touch!
---
© 2023 Conversion Rate Experts Limited. All rights reserved.