How to tell if your expensive new website is useless
Imagine that you asked someone to build a computer for you. And he came back with one of those pretend ones that you see in furniture stores. Just a shiny, empty plastic box. Functionally useless.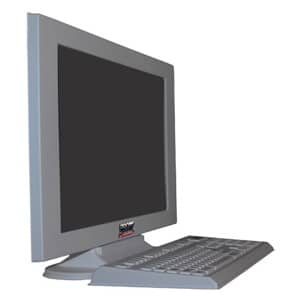 That's how most website redesign projects happen. The agency builds a beautiful website, one that would look great in its portfolio. But it has no interest in measuring how well the website works. Or even if it works. Many clients hire us to rebuild the functionally useless new website that their agency has just finished building.
(If you know people whose websites were built with this blatant disregard for performance, please forward this article to them.)
Every week we hear someone say, "We'll start to work on conversion rate optimization (CRO) once our new website is finished." As if conversion were an optional extra—like a mouse mat. Conversion is a website's goal. In fact, that's how a conversion is defined: as a purchase, a lead, a registration, or whatever the website's purpose is. Conversions are the reason the website exists.
CRO is thus the act of making a website good at doing what it was built for. CRO is a core activity, arguably the core activity.
How to do it right
Of course, some companies do understand the importance of conversion, and—unsurprisingly—they are doing well. Our clients include many of the world's most successful web companies—including Amazon, Apple, Google, Facebook, and Dropbox. They focus obsessively on user experience and conversion. People often ask us, "Aren't those companies already great at conversion?" Yes, of course they are. And they are eager to improve. They need to improve.
It's the difference between winning and losing.
Look under the hood of any these companies and you'll find a powerful conversion engine. You'll also see that they have a crack team of engineers continually tuning that engine, constantly improving the customer experience.
These companies' staff members are marketers and designers, but they bear little resemblance to the marketers or designers of old. Just like their businesses bear little resemblance to the bricks-and-mortar companies they disrupted. These marketers can accurately measure the results of their actions. Marketing blather is replaced with rigorous exploration and scientific testing. We call it scientific design. It works, and it puts competitors out of business. Just ask Altavista, Barnes & Noble and Myspace.
If your company is still basing its decisions on opinion, your website may be like one of those fake computers. Successful companies measure their work, to ensure they are growing. If you want to join them, read our free reports, or ask us to help. Our "Clients and Results" page contains a long list of wins—proof that we have grown our clients' profits. With or without us, you need to be adding demonstrable wins like these to your resumé.
So before you spend another penny with a web-design agency, ask to see proof that it has grown its clients' businesses. Don't let it distract you with flashy portfolios and "creative awards." And don't get stuck in the following loop:
Nowadays, there's no reason why an agency wouldn't A/B-test all of its work.
Unless, of course, it is a fraud, selling shiny, empty plastic boxes.
---
What's your goal today?
1. Hire us to grow your company
We've generated hundreds of millions for our clients, using our unique CRE Methodology™. To discover how we can help grow your business:
Schedule your FREE strategy session
2. Learn how to do conversion
Download a free copy of our Amazon #1 best-selling book, Making Websites Win, recommended by Google, Facebook, Microsoft, Moz, Econsultancy, and many more industry leaders. You'll also be subscribed to our email newsletter and notified whenever we publish new articles or have something interesting to share.
Browse hundreds of articles, containing an amazing number of useful tools and techniques. Many readers tell us they have doubled their sales by following the advice in these articles.
Download a free copy of our best-selling book
3. Join our team
If you want to join our team—or discover why our team members love working with us—then see our "Careers" page.
4. Contact us
We help businesses worldwide, so get in touch!
---
© 2023 Conversion Rate Experts Limited. All rights reserved.