Free podcast of our entire book, Making Websites Win

We've just created an audiobook version of our best-selling book. And as an experiment, we've decided to give it away as a free podcast.
Like Joe Rogan but more conversioney—and with no one taking drugs—the Making Websites Win podcast contains techniques that could transform your website, your business, and your career.
"It's like the hitchhiker's guide to CRO"—Ian Dalton, Flagship Marketing
"I've been a huge fan of Conversion Rate Experts for over 10 years, and this is their greatness in a nutshell."—Carolyn Wilson, Think Internet
It may not be available as a free podcast for long, because we may end up selling it via the usual audiobook channels. So if you think you'd like it, we recommend you download all ten episodes now.
How to download the Making Websites Win audiobook podcast
If you already listen to podcasts, then open your podcast app, and search the directory for "Making Websites Win." If you can't find it, try entering the URL of the XML feed. Or use one of the following links: Apple Podcasts, Amazon Music Podcasts, Breaker, Castro, Overcast, Pocket Casts, RadioPublic, Spotify, and TuneIn.
If you don't already have a podcast app, we recommend Pocket Casts.
If you prefer, you can listen to the podcast using the following audio player:
We hope you enjoy it. If you do, please tell your friends and followers!
All profits go to feeding chronically hungry children
We donate all profits from Making Websites Win to the charity Mary's Meals, which feeds chronically hungry children in the world's poorest communities. (So far, the donations have paid for the feeding of 2,518 children for a whole school year.) We are providing the audiobook and eBook versions to you for free, but if you'd like to donate (thanks!), then you can buy the physical book or, even better, make a donation direct on Mary's Meals' donation page.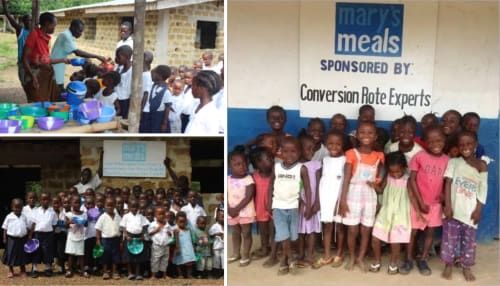 Useful resources
---
© 2023 Conversion Rate Experts Limited. All rights reserved.