Tips and tools: Some little-known tools and techniques we've used to grow our own business
Here are some great resources we have recently shared with one another
(We don't profit from recommending things. We just love sharing things we think you'll appreciate. You can see our other Tips and Tools articles here.)
This post is a mix of great resources we've recently shared with one another (using Diigo) plus some tools and techniques that have been invaluable in helping us to grow our own business. We've been meaning to share them with you for a while. We hope you like them.
We've been using Limeade Listening for several months now, and it works really well. It surveys your team each week, asking them questions that will help you to grow and improve.
The founder of a tech company once expressed envy at how easily we had found product/market fit. We replied that it's hard not to when you start as a service company. Conversely, most conversion tools fail because the founders don't intimately understand the marketplace. This excellent article by Ben Ogle explains the advantages of first providing a service manually, then later automating it. This inspiring article from the founder of ZeroCater has a similar theme.
Whether you appreciate it or not, your business has one or more bottlenecks restricting its growth. The Theory of Constraints (ToC) is a valuable methodology for identifying and removing them. When we started Conversion Rate Experts—with zero budget and no external investment—we planned our entire business strategy using a ToC "prerequisite chart," which we've kept updated ever since. It has been invaluable, helping us to make bold decisions about what we should prioritize. Here are some of the best resources for learning ToC:

It's really hard to find a clear, concise introduction to ToC. This article by Robert McNally of Flying Logic is the best overview we've found (here's another good one and here's another (PDF)).
Once you understand the ToC Thinking Processes, this diagram (JPG) provides a useful overview of what they do, and how they relate to each other.
The "Evaporating Cloud" is one of the Thinking Processes from ToC. It's surprisingly hard to find a good explanation of how it works, though.
If you want to read 444 pages about ToC, this book by William Dettmer is great. We have recently discovered this 74-page executive summary version by the same author, which we recommend you start with. Unlike the longer version, it's available on Kindle. Plus, at the time of writing, it's less than one-tenth of the price.
We use Omnigraffle for drawing ToC diagrams because, unlike many other drawing packages, it has a layout engine that automatically arranges the elements of the diagram. These ToC OmniGraffle templates are useful.

The Beach Boys redubbed (video). This isn't one of the must-have resources—in fact, it's nothing to do with work—but it's funny. It's part of a recent trend of people badly redubbing pop videos. The Beach Boys' harmonies weren't so tight after all, were they?
Depending on how someone answers a question in Qualaroo, you can now prompt a chat with Olark or Zopim. This could be really useful for screening out low-value chatters.
If you ever get involved with selling medicines or health supplements in the UK, the MHRA's "Blue Guide" (PDF) is the definitive document for what you can and can't say. Their website is useful too.
Zapier, Busyflow and IFTTT are great tools for linking up Basecamp, Trello, Google Apps and whatever other web apps you use.
If you're aiming to be a great copywriter, you should study the lives of other great writers and creators. For example, there are loads of lessons to be learned from the story of the Beatles. The movie The Compleat Beatles is a brief, inspiring introduction to the Beatles, which we watch regularly. Unfortunately, it's extremely hard to find a copy these days because it's out of production. Apart from a YouTube ripped version, your only option is to buy a second-hand VHS video.
The easiest, freeiest way of getting three user tests done: Go to UserTesting.com, click "Pricing & Sign Up," select "3 Participants," then use the gift code "3freeCRE" (without the quotes). We don't normally mention special offers, but this one is worth breaking the rule for. We don't profit from recommending it.
In our last post, we mentioned three apps for creating guided tours of your site, but somehow we forgot to mention WalkMe.
That's all for this week, apart from the news that we're now paying for all the school meals for a second school in Africa. This one's in Liberia: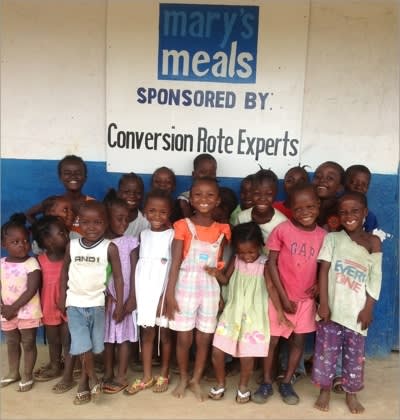 ---
What's your goal today?
1. Hire us to grow your company
We've generated hundreds of millions for our clients, using our unique CRE Methodology™. To discover how we can help grow your business:
Schedule your FREE strategy session
2. Learn how to do conversion
Download a free copy of our Amazon #1 best-selling book, Making Websites Win, recommended by Google, Facebook, Microsoft, Moz, Econsultancy, and many more industry leaders. You'll also be subscribed to our email newsletter and notified whenever we publish new articles or have something interesting to share.
Browse hundreds of articles, containing an amazing number of useful tools and techniques. Many readers tell us they have doubled their sales by following the advice in these articles.
Download a free copy of our best-selling book
3. Join our team (we're actively hiring!)
If you want to join our team—or discover why our team members love working with us—then see our "Careers" page.
4. Contact us
We help businesses worldwide, so get in touch!
---
© 2023 Conversion Rate Experts Limited. All rights reserved.