Boomerang for Gmail helps you keep track of your projects
To get articles like this free in your inbox, subscribe to our newsletter (the link opens in an overlay).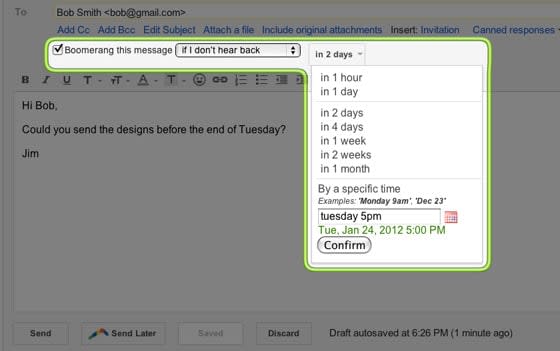 Do you use the Gmail client (or the Google Apps version) for your email? If so, here's a fantastic recommendation: Install Boomerang for Gmail. We started using Boomerang about a year ago, and we use it many times every day.
If you ever find yourself creating reminder tasks like "Check that Bob replied to my email," you're aware of the following two problems:
If you send 50 emails a day, you need to check 50 reminders, even if 49 of those people end up replying.
It can be cumbersome to turn an email into a task. Gmail has unique URLs for each email thread, but they can be fiddly to copy and paste into a task list—and then slow to load when you click on them.
Boomerang helps you with these issues by adding a few buttons to the Gmail interface. The most useful of these says, in effect, "Notify me if I don't hear back within N days." So, whenever you send an email, you can tell Boomerang to notify you if the person doesn't reply within a certain time frame. Ideally, the person will reply to you. But if—and only if—you don't get a response, Boomerang will reply to you instead, reminding you that the person didn't reply. Boomerang therefore allows you to "manage by exception," notifying you only when someone doesn't reply within the time you specified. And because of the way Boomerang works, the email thread gets moved to the top of your inbox, so it gets your attention.
We don't profit from recommending this or any other software; we just love tools that help us get things done, and we know that you do too. If you found this useful, you'll appreciate the following two articles:
SEO Book has published a more in-depth guide to using Boomerang.
Distilled has published a guide to other useful features of Gmail for search marketers.
How much did you like this article?
---
What's your goal today?
1. Hire us to grow your company
We've generated hundreds of millions for our clients, using our unique CRE Methodology™. To discover how we can help grow your business:
Claim your FREE strategy session
2. Learn how to do conversion
Browse hundreds of articles, containing an amazing number of useful tools and techniques. Many readers tell us they have doubled their sales by following the advice in these articles.
Download a free copy of our Amazon #1 best-selling book, Making Websites Win, recommended by Google, Facebook, Microsoft, Moz, Econsultancy, and many more industry leaders. You'll also be subscribed to our email newsletter and notified whenever we publish new articles or have something interesting to share.
Download a free copy of our best-selling book
3. Work for us
If you want to join our team—or if you want to discover why our team members love working for us—then see our "Careers" pages.
4. Contact us
We help businesses worldwide, so get in touch!
---
© 2021 Conversion Rate Experts Limited. All rights reserved.