A template to help you design unbeatable multi-step conversion funnels
—Includes a ready-to-use Conversion Funnel Planner in Google Docs
—Helps you convert visitors who are "just browsing"
(This is one of a series of articles, the first of which is here.)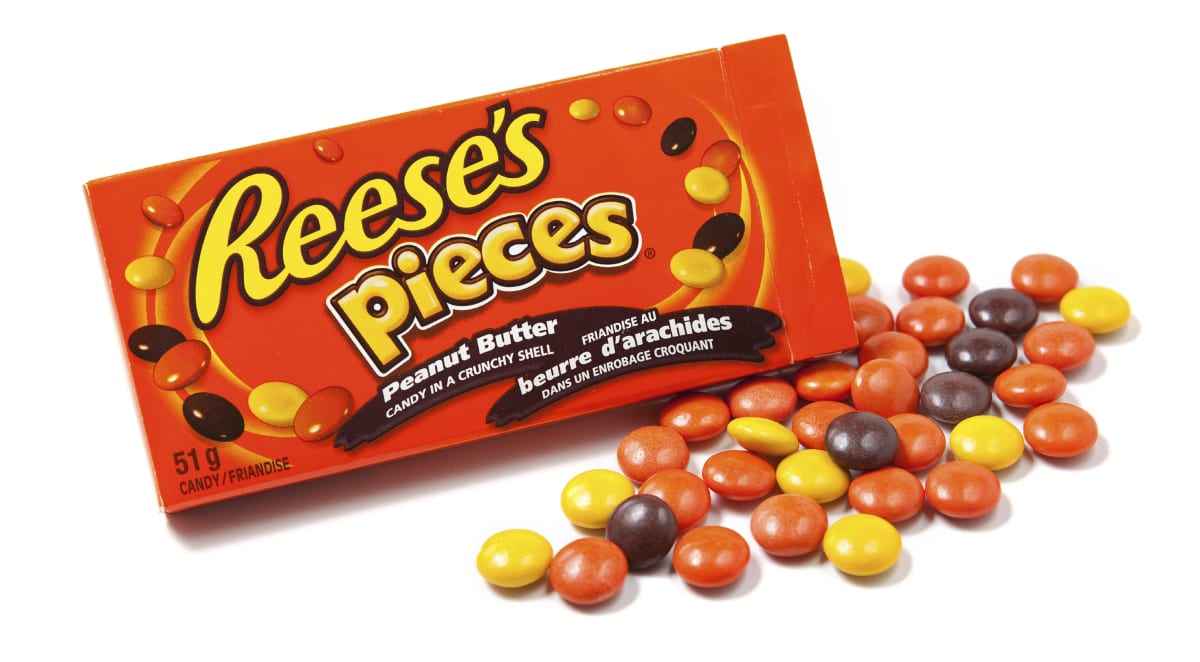 It's easy to forget that some visitors aren't ready to buy
You hear marketers say that they "want to make visitors reach for their credit cards." But pushy selling is usually thrashed by a sophisticated, relationship-building funnel. We know because many of our clients are doing the thrashing.
In this article, we explain why you need to develop a sophisticated multi-step marketing funnel. And then we present the CRE Funnel Planner, a framework that makes it easy to design sophisticated funnels.
What we can learn from Barnes & Noble and Amazon
About 25 years ago, offline bookstores learned not to push the hard sale. Stores like Barnes & Noble discovered they could convert a visitor from "just browsing" to "buying" by making their stores highly conducive to reading. They added chairs, reading areas, and even in-store coffee stores. They discovered that the more time that visitors spent in the store, the more likely the visitors were to buy.
Amazon was quick to adopt the same approach, allowing visitors to "look inside" books.
The Reese's Pieces trail—a mental model that helps you to design amazing conversion funnels
In the movie ET, the alien gets stranded in a forest. The boy, Elliott, coaxes ET back to Elliott's home by leaving a trail of Reese's Pieces from the forest all the way back to the house.
The Reese's Pieces trail is a useful analogy for an effective marketing funnel. If Elliott had simply left all the Reese's Pieces in a large pile in his home, then ET wouldn't have made the journey.
It was much more effective to leave a trail of evenly spaced, irresistible rewards from where ET was to where Elliott wanted ET to be.
How does this apply to web marketing? Like ET, people tend to act based on rewards, especially short-term rewards. The following quote is from a (fantastic) book about writing comedy:
"Everything we do, we do with the hopeful (at times deluded) idea that it will improve our lives. Everything we're wearing today, every choice we've made, we made because we thought it would, even infinitesimally, make things better for us." —Steve Kaplan
Your conversion funnel should be like a Reese's Pieces trail. Your visitors must be irresistibly attracted by each step of your sales funnel. They must believe that every step, however small, will make their lives better.
The Conversion Rate Experts (CRE) Funnel Planner makes it easy to plan your Reese's Pieces trail
All of the above is easier said than done. The CRE Funnel Planner (pictured below) provides a valuable framework. It helps to turn your one-step sales process into a much more sophisticated, more profitable multi-step process. It also makes it easier to communicate your funnel to your colleagues.
The planner has the following three columns: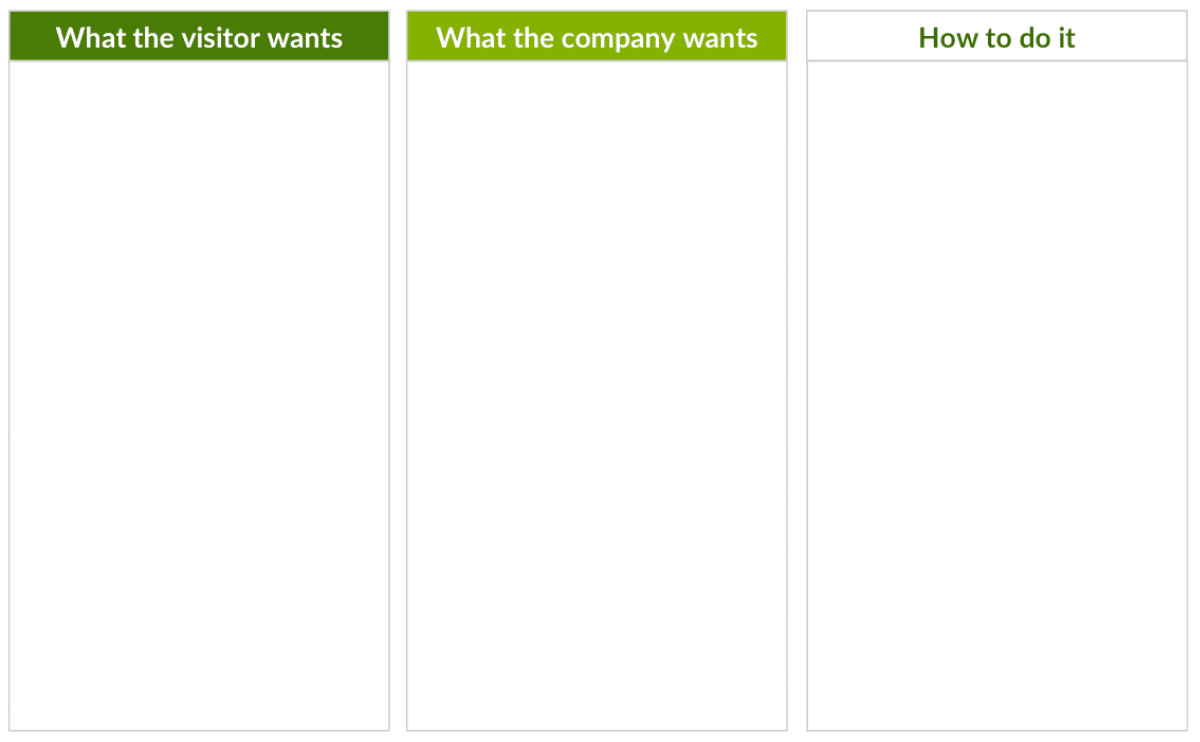 You can access a ready-to-use template of the table here.
A (terrible) one-step funnel for a seller of fishing boats
Now, let's populate the CRE Funnel Planner for InflataFish, an imaginary company that sells inflatable fishing boats. Badly.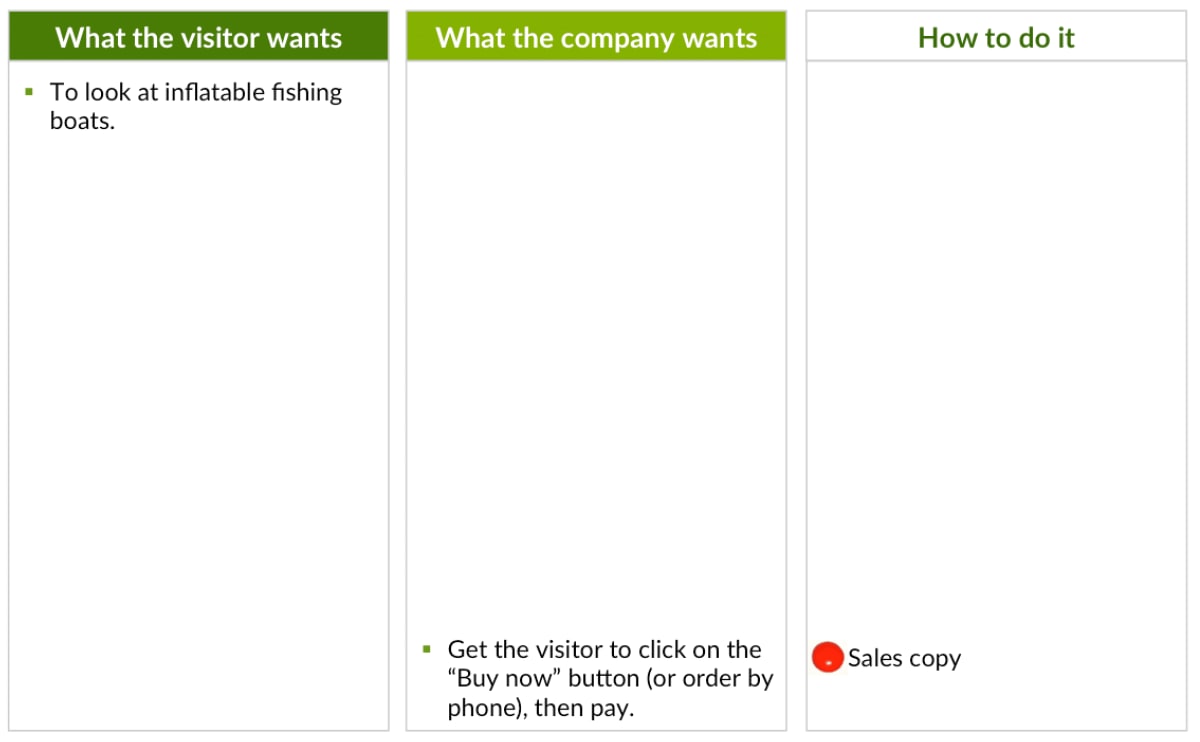 InflataFish has a crude one-step sales process:
The visitors want to look at inflatable fishing boats, maybe to buy one but at the moment just to look.
InflataFish wants to get the visitors to click on the "Buy Now" button or order by phone, then pay.
So InflataFish has overzealously reached for the visitors' credit cards. It has created a sales page (represented by the Reese's Piece) that describes the boat and its features, advantages, and benefits. InflataFish hopes that the visitors will click "Buy Now" and spend $2,000 on a boat.
It's equivalent to going to a nightclub and asking a stranger to marry you.
A (good) multi-part funnel for a seller of fishing boats
InflataFish would benefit from creating a multi-step Reese's Pieces trail, as follows: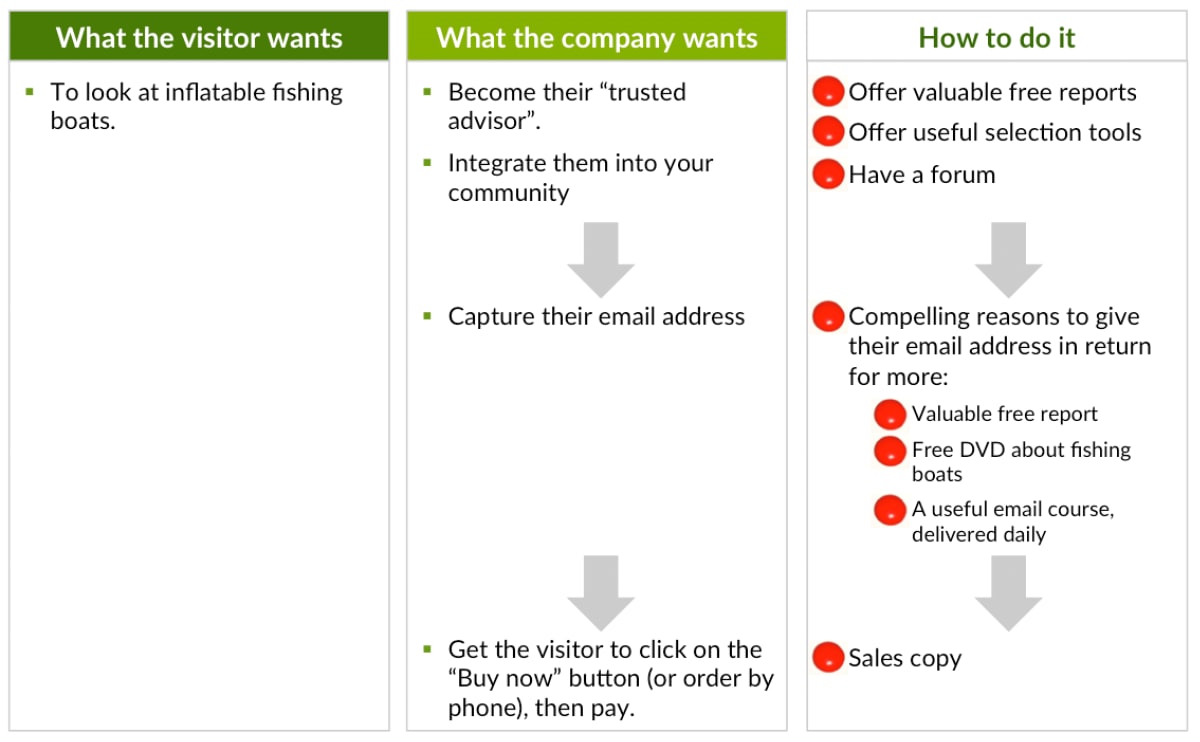 In this case, the left-hand column is still the same—the visitor just wants to look at inflatable fishing boats. And, as before, InflataFish ultimately wants the visitor to click the "Buy Now" button.
But now, InflataFish has set itself many intermediate goals, each of which offers an appealing "Reese's Piece" reward:
First, InflataFish wants to become the visitors' trusted advisor. It could do this by providing valuable free reports that explain how to buy inflatable fishing boats. And it could provide useful product-selection tools. Both of those are Reese's Pieces.
Then, it wants to integrate the visitors into its community. It could do this by providing a forum in which its visitors could share fishing advice and experiences. That's another Reese's Piece.
Then it wants to capture the visitors' email addresses. Which it does by providing three compelling offers (Reese's Pieces), including

a valuable free report called "How to plan the ultimate fishing trip—100 great tips from our customers."
a free, useful DVD about buying and using fishing boats.
a useful email course delivered daily called "Angling Alerts: The latest news for fishing enthusiasts."
Then InflataFish wants the visitors to click on the "Buy Now" button and pay for a boat. The visitors will do this when they are ready. But only because over a period of hours, days, weeks, months, or even years, they have gradually moved through the Reese's Pieces trail, always to the point that matches their level of comfort, desire, and readiness.
It's naively optimistic to hope that all visitors will go along the whole trail in one step. Business relationships—like personal relationships—take time to build.
"Readiness"—an important concept to understand
The word readiness is important. Many marketers forget that, to a large extent, buyers will buy when they are ready.
Sometimes people become ready because of something that has happened. For example,

A cell-phone contract expires, so a person becomes free to choose another carrier.
On deciding to move house, a person starts to look for a moving company.
After eating too much over the holidays, a person decides to join a weight-loss program.

Sometimes people become ready to buy only once they have started a project. For example, people tend to plan a vacation on a day of their choosing, not when they see an ad for travel insurance. As soon as they decide to start planning, they begin a flurry of buying flights, hotels, car hire, etc.
How to manage readiness
It can be prohibitively expensive to persuade visitors to buy when they aren't ready. It's economically preferable to accept that buyers will buy when they are ready.
There are two ways in which a travel company can get a person's attention when they are ready:
Appear in the prospect's mind at the right time. By building a relationship with a prospect, a company can be the first thought that pops into a prospect's mind when they become ready.
Appear somewhere in the buying process. For example, a company that sells travel insurance could ensure that its marketing materials appear within the marketing funnels of other travel companies (such as hotels, airlines, travel insurance, airport transport, etc.).
A sophisticated, $125m Reese's Pieces Trail
To see an excellent example of a Reese's Pieces Trail, visit MoneySavingExpert.com, which is a UK-based financial services company. Its website is extremely popular, getting 13 million unique visitors a month. In fact, one in six UK citizens has opted in to its email list. In 2012, it sold for £87m (about $125m).
It's not even obvious that the website is a commercial venture. On arriving at the website, you'll be invited to subscribe to the free money-saving email. Then, you'll be shown the valuable best-buy guides that explain, in plain English, how to buy different types of financial service. Then, you'll be introduced to the money-saving forum and many other useful tools.
The website's Reese's Pieces trail is so effective you don't even feel like you're dealing with a company. By the time that you sign up for a financial product, you probably won't even feel like you have been sold to. The fact that the company gets paid at the end seems almost incidental.
ET would approve.
This article is one of a series that began here. The next in the series is here.
How much did you like this article?
---
What's your goal today?
1. Hire us to grow your company
We've generated hundreds of millions for our clients, using our unique CRE Methodology™. To discover how we can help grow your business:
Schedule your FREE strategy session
2. Learn how to do conversion
Download a free copy of our Amazon #1 best-selling book, Making Websites Win, recommended by Google, Facebook, Microsoft, Moz, Econsultancy, and many more industry leaders. You'll also be subscribed to our email newsletter and notified whenever we publish new articles or have something interesting to share.
Browse hundreds of articles, containing an amazing number of useful tools and techniques. Many readers tell us they have doubled their sales by following the advice in these articles.
Download a free copy of our best-selling book
3. Join our team
If you want to join our team—or discover why our team members love working with us—then see our "Careers" page.
4. Contact us
We help businesses worldwide, so get in touch!
---
© 2023 Conversion Rate Experts Limited. All rights reserved.