Win Report: How blurring the results doubled sign-ups for a utility comparison website
Published: October 2023
The following is the first in a series of
Win Reports
, providing an "under the hood" look at how we apply the
CRE methodology™
to grow our clients' businesses—revealing the research we conduct, ideas we create, tests we run, and insights we provide.
In the next three minutes,
we'll show you how our team doubled the sign-ups for utility comparison website glimp
—and how this thinking can apply to your business.

Like other comparison services, glimp's website takes prospects through a series of questions, scans the market, and connects them to cheaper deals—often saving hundreds of dollars per year.
glimp hired us to grow their business.
Research: Friction at the critical moment
You might think that a service that saves hundreds of dollars should sell itself, but our Research Department identified numerous opportunities for improvement and testing.
For example, funnel analysis showed that many potential customers abandoned the registration process at step six, when asked to submit their contact details. This is not unusual. Commitments create decision points… high‑stakes moments for customers and businesses alike.
These moments—often happening right before a sale—are high‑leverage opportunities for growth.
The original page (or control)
By step six, the customer was just one step away from the deals, yet only around 3% of users took that step. How could we reduce the friction at this critical moment?
The existing webpage looked like this: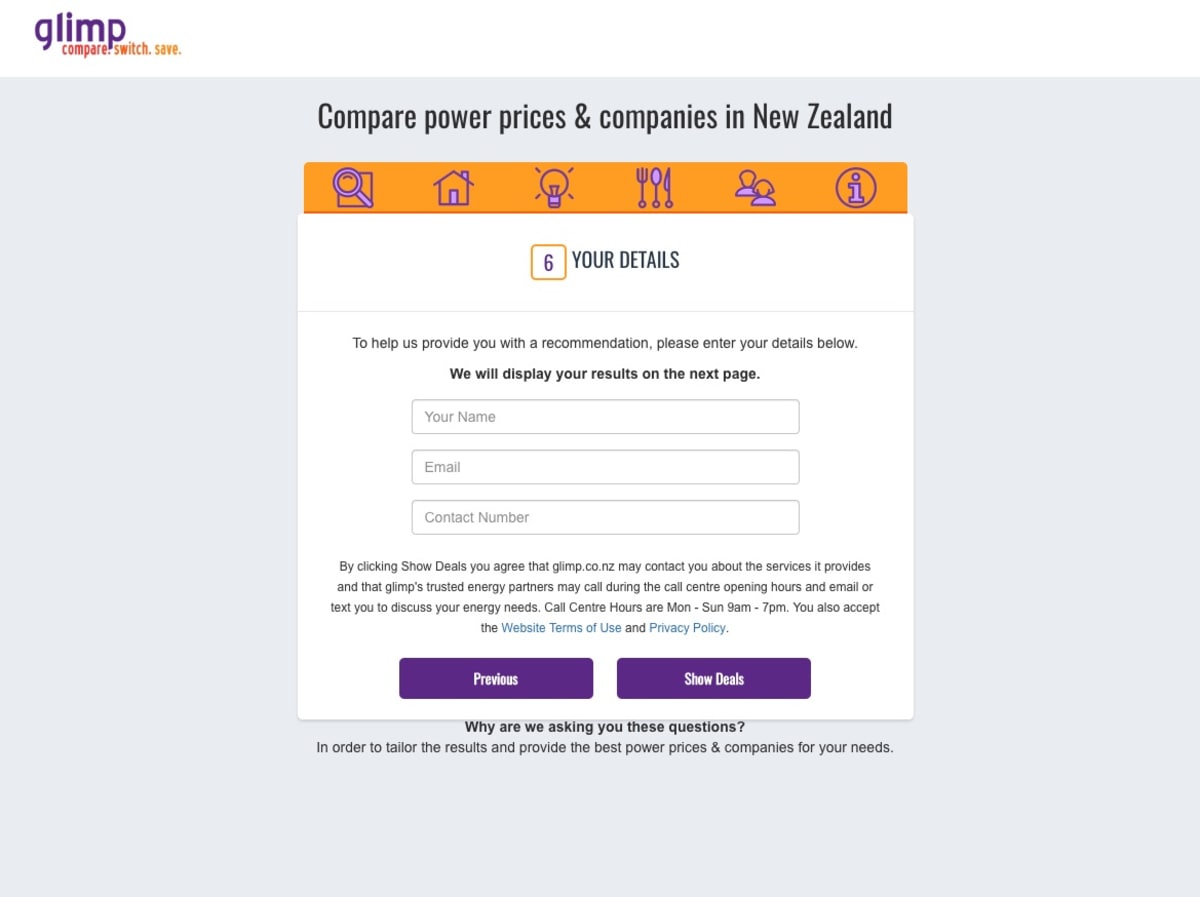 The tested page (or variation)
After establishing a hypothesis, we created a variation that applied the following techniques:
Future pacing: Blurring the deals is a form of future pacing—helping users imagine that they already have their desired result. In this case, we showed users that the deals were real and "waiting" behind a simple form. Can you feel the effect of the blurring on the prospects? Those are my offers. I can almost touch them. How much money will I save?

As we say on page 197 of our Amazon #1 best‑selling book, Making Websites Win: Many companies don't make it clear what happens once a visitor says yes.

To learn more about future pacing, see Why many visitors abandon because they don't understand what they'll get.

Presenting counterobjections: By removing unnecessary copy, we focussed on the instant nature of the comparison, the independence of the free service, and the customer's potential savings. Each of these changes emphasized the benefit of immediate action.

Simplification: The variation reduced clutter on the form and provided a one‑button choice for moving forward—increasing conversion by removing clutter is one of our most effective strategies.
Here's what the variation looked like: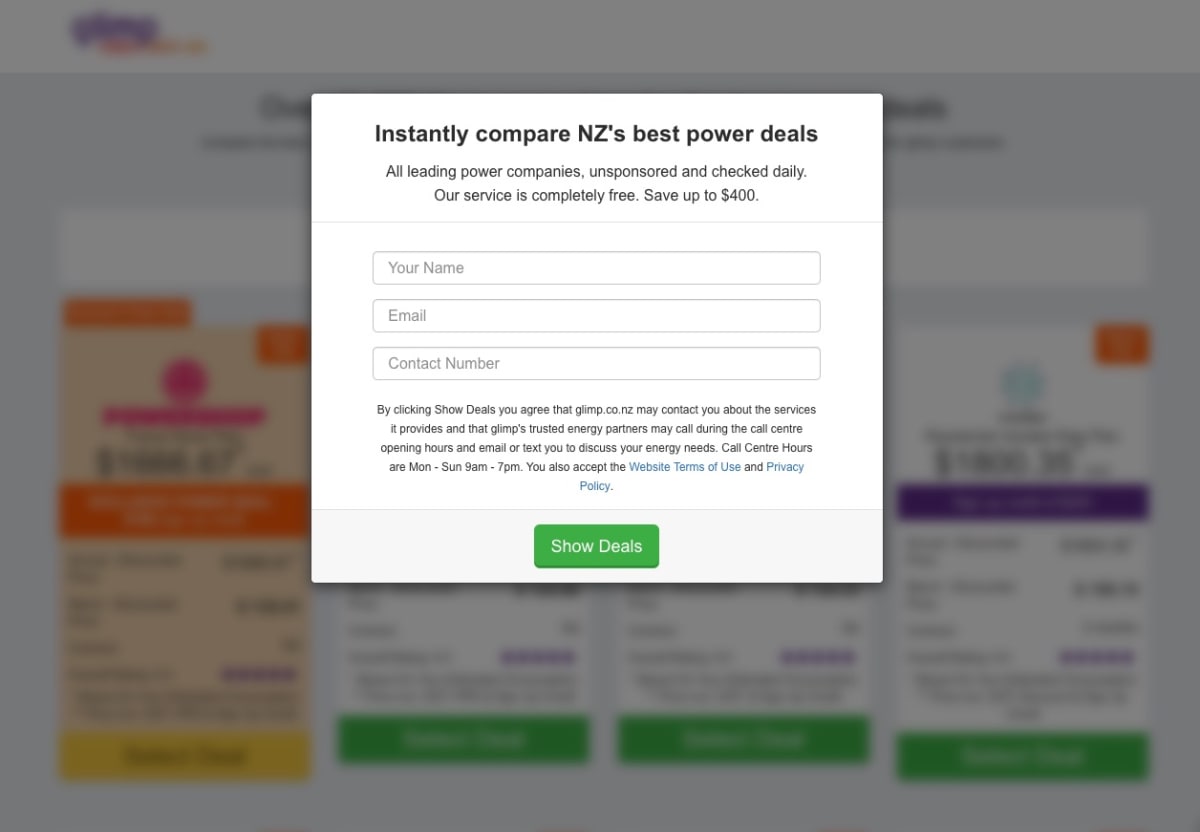 Result: The variation had over double the sign-ups
During the test, the variation saw a 108% increase in sign-ups and users viewing the deals.
We add every successful test to our proprietary Wins Database, then look for ways to apply the lessons to other clients.
If you want us to grow your profits—quickly and efficiently—check if you qualify for a free one-on-one strategy session with one of our CRO consultants.
We'll work with you only if we believe we can get amazing results together. Our success has come entirely from positive word of mouth, and we plan to keep it that way.
A few words from the co-founder of glimp, Michael Speight
Thanks to glimp for letting us share these insights (and for being such an awesome team).
How much did you like this article?
---
What's your goal today?
1. Hire us to grow your company
We've generated hundreds of millions for our clients, using our unique CRE Methodology™. To discover how we can help grow your business:
Schedule your FREE strategy session
2. Learn how to do conversion
Download a free copy of our Amazon #1 best-selling book, Making Websites Win, recommended by Google, Facebook, Microsoft, Moz, Econsultancy, and many more industry leaders. You'll also be subscribed to our email newsletter and notified whenever we publish new articles or have something interesting to share.
Browse hundreds of articles, containing an amazing number of useful tools and techniques. Many readers tell us they have doubled their sales by following the advice in these articles.
Download a free copy of our best-selling book
3. Join our team
If you want to join our team—or discover why our team members love working with us—then see our "Careers" page.
4. Contact us
We help businesses worldwide, so get in touch!
---
© 2023 Conversion Rate Experts Limited. All rights reserved.