A portable laptop stand we love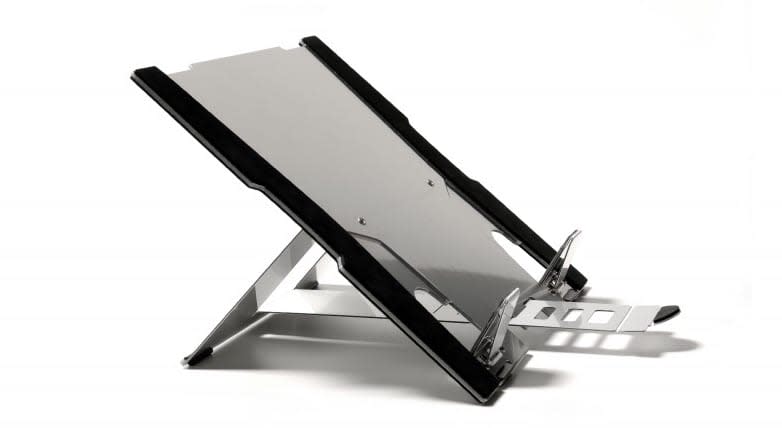 Your head weighs about the same as a bowling ball.
This has serious implications if you use a laptop. When you look down at its screen, your neck and upper back have to support a huge weight, often for hours at a time.
As a result, laptop users are prone to problems with their necks and upper backs—which sometimes manifest themselves as problems with elbows and wrists, like RSI.
About seven years ago, we bought some portable stands to raise the level of our laptop screens. Seeing as most of our readers are laptop users, we thought you might be interested to know about them.
We love the stands for the following reasons:
They make working on a laptop more pleasurable. The first time we used them, we noticed a feeling of relief—a bit like when a noise stops that you hadn't previously noticed was there.
They are durable. Ours have lasted years. (Some of the foam pads came off years ago, but we don't miss them.)
They fold up almost unbelievably small, to a single sheet just 6 mm thick, so they fit easily into a laptop bag.
They are incredibly light, so they add virtually no weight to your bag.
However, there was a problem. Whenever someone asked us where they could buy one, we were unable to find a source. We didn't know the name of the company that had made them, and we suspected that they were no longer in production.
To our relief, we have managed to track down the manufacturer, a company called Bakker Elkhuizen, which appears to be going strong. Here's the product page for the laptop stand, which turns out to be called the "Flex-Top 270 Portable Notebook Stand." Bakker Elkhuizen's website doesn't have ecommerce functionality, so to buy one you'd need to search around somewhere like Amazon or eBay.
Costing $100, the stands are pricey, but that's still less than two trips to an osteopath. (Though almost any cost can be justified by comparing it to medical costs.)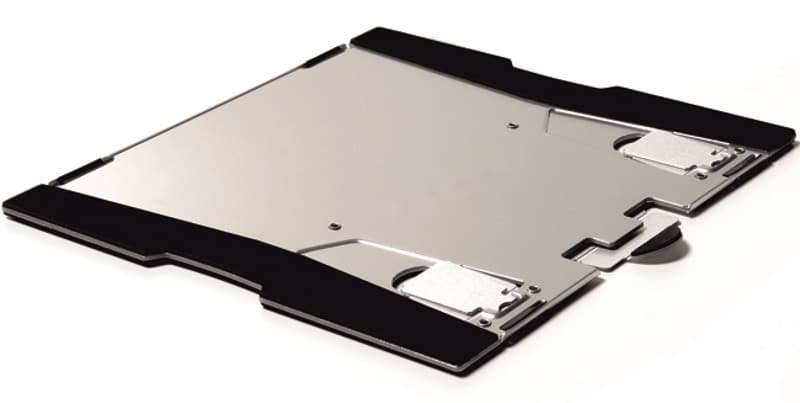 Disclaimer Central: We don't profit in any way from mentioning this product. Also, at the risk of stating the obvious, nothing in this post is intended to constitute medical advice.
---
What's your goal today?
1. Hire us to grow your company
We've generated hundreds of millions for our clients, using our unique CRE Methodology™. To discover how we can help grow your business:
Schedule your FREE strategy session
2. Learn how to do conversion
Download a free copy of our Amazon #1 best-selling book, Making Websites Win, recommended by Google, Facebook, Microsoft, Moz, Econsultancy, and many more industry leaders. You'll also be subscribed to our email newsletter and notified whenever we publish new articles or have something interesting to share.
Browse hundreds of articles, containing an amazing number of useful tools and techniques. Many readers tell us they have doubled their sales by following the advice in these articles.
Download a free copy of our best-selling book
3. Join our team
If you want to join our team—or discover why our team members love working with us—then see our "Careers" page.
4. Contact us
We help businesses worldwide, so get in touch!
---
© 2023 Conversion Rate Experts Limited. All rights reserved.