"There's a lot of money to be made in
adopting the wisdom in these pages"

—Ashley Friedlein, founder of Econsultancy
From the World's leading agency for Conversion Rate Optimization (CRO). Making Websites Win contains the powerful growth strategies we used to help grow Amazon, Apple, Google, Facebook, and Dropbox—plus hundreds of smaller companies in over 80 different verticals, 40 countries, and 11 languages.

Rated 4.7 out of 5
An

#1 bestseller in 15 categories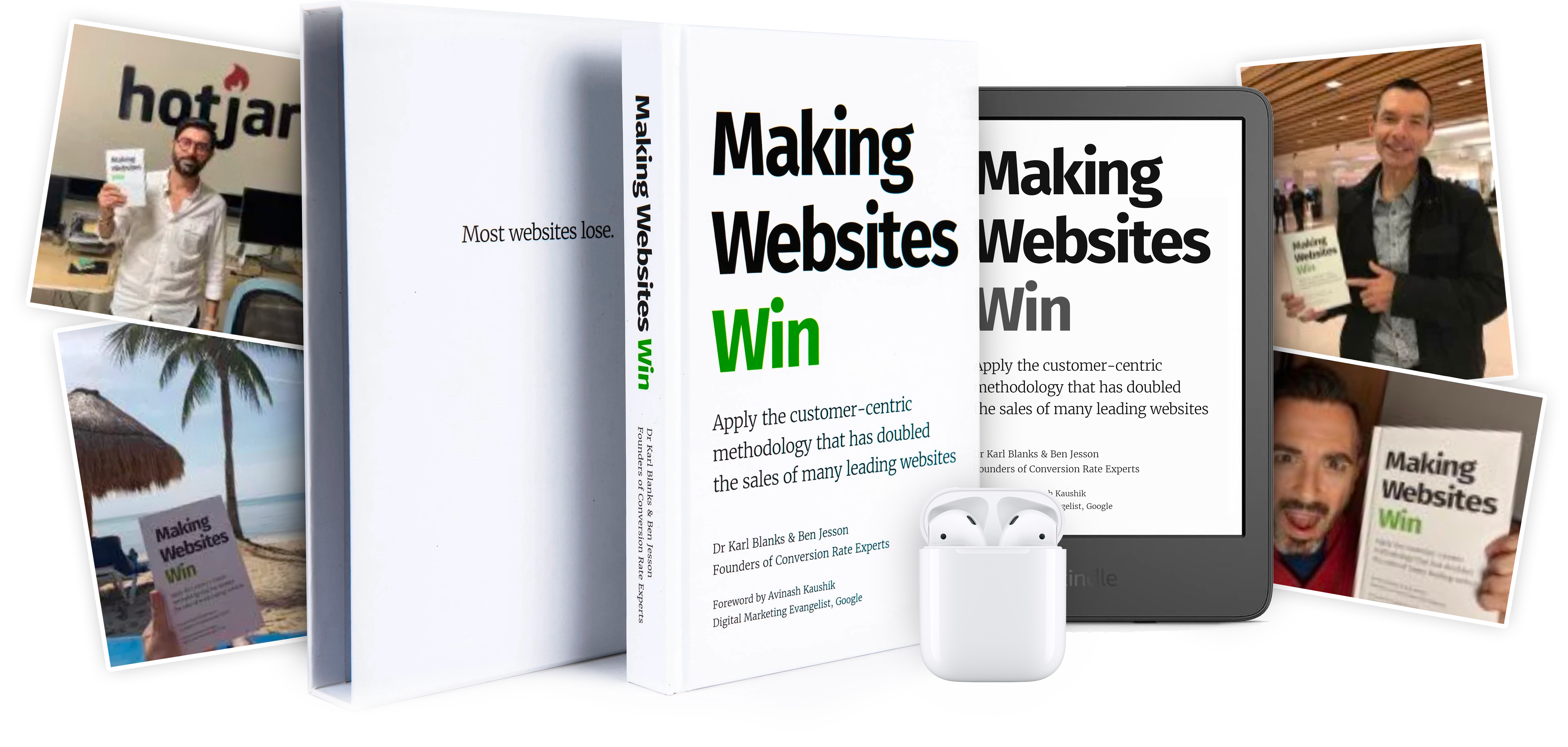 It can work for you too, and to prove it, we're giving away free copies of our book, Making Websites Win, which normally retails for $19.99.
Claim your FREE copy of Making Websites Win

Rated 4.7 out of 5
An

#1 bestseller in 15 categories
Making Websites Win is recommended by Microsoft, Dropbox, Unbounce, Moz, Econsultancy, Crazy Egg, and many more industry leaders
Why Making Websites Win will transform your website, your business, and your career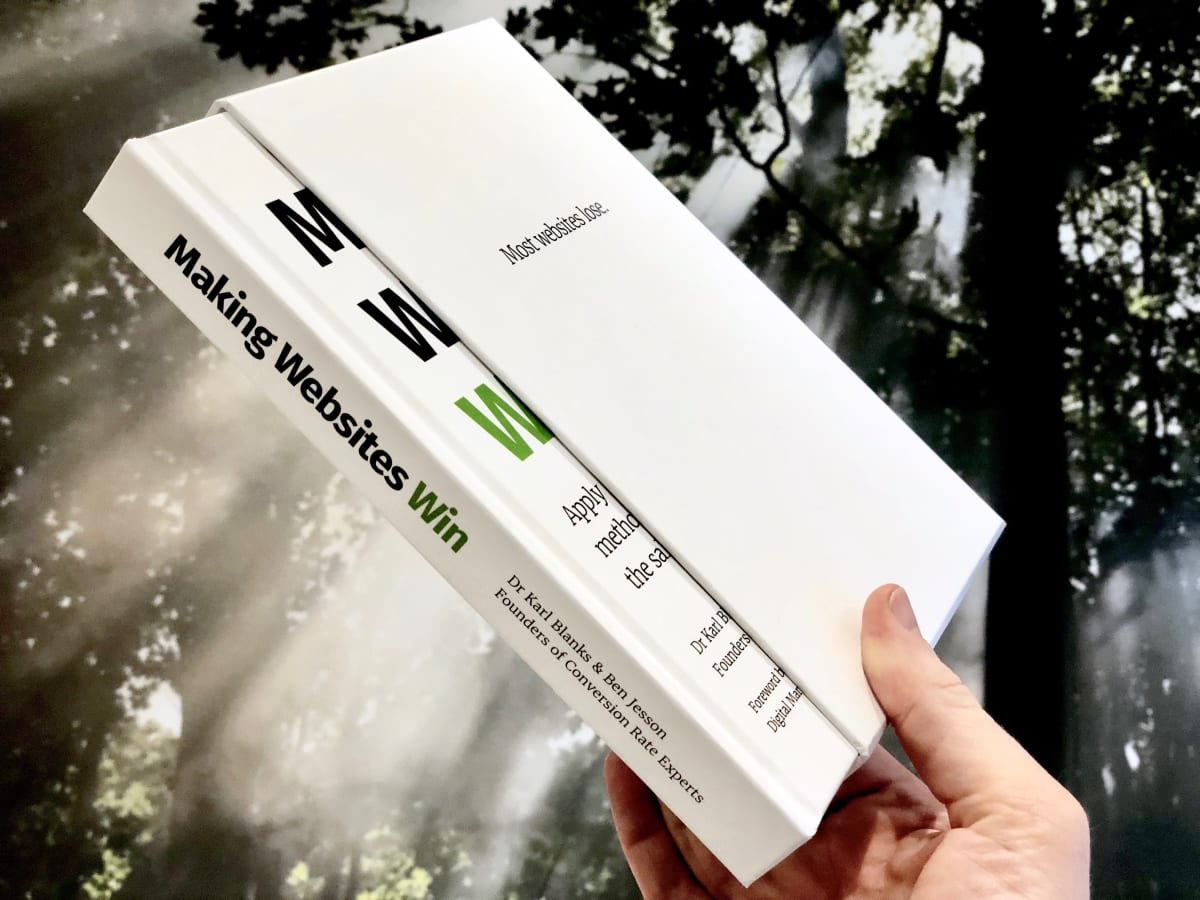 Most websites lose. Almost all of them, in fact. Many never make a profit. Others are successful at first and then get crushed by competitors.
Making Websites Win is about how to buck the trend—to make websites that customers love and that are outrageously profitable.
In Making Websites Win, you'll get the following:
What successful web businesses do differently (and others get wrong)
How to easily identify your website's biggest opportunities
Why doubling your website's conversion rate is easier than it sounds
A step-by-step guide to applying The CRE MethodologyTM to dramatically increase your sales
The tools and techniques we've used to successfully optimize web pages, press releases, marketing email sequences, video scripts, webinars, print ads, Facebook ads, and much more
Case studies showing exactly how we use these techniques to grow clients at astonishing speed
A treasure trove of proven—and sometimes counter-intuitive—solutions for growing businesses
And so much more!
Making Websites Win is recommended by Moz, Econsultancy,
Crazy Egg, and many more industry leaders
"You should buy this lovingly crafted book. The deep and broad digital experience Conversion Rate Experts' have accumulated in their years of practice is reflected in every chapter.

"If you are standing in a bookstore wondering if you want to buy this book, jump to the section about how 'Winning websites…manage complexity' and scan Step 7. Then rush to the cashier to check out."
"Their approach is truly the best I've ever seen."
"They're the best in the business."
"The cost of marketing is continually rising. As a business, you have no choice but to run A/B tests and optimize your conversion rates. It's the only way to 'make websites win.'"
"The Conversion Rate Experts team is the real deal when it comes to CRO and website optimization. If you want to learn from the best, you need this book."
"I've always learned a ton from Conversion Rate Experts—so thrilled to see they had a book out (and instantly made it onto bestseller list!) Started reading this book and can't recommend it highly enough"
"There isn't a company in the world that couldn't benefit from working with them."
"At Conversion Rate Experts, I learned a tremendous amount. They are the best."
"Want to make your website make you more money? Get THIS book."
"So much of our data-driven approach is based on things we learned from Conversion Rate Experts."
"I just sent it to our website designer!"
"This book looks set to be the Bible of CRO. No one knows the space better. There's a lot of money to be made in adopting the wisdom in these pages."
"In the future, businesses that fail to adopt a data-driven approach to optimization will struggle to compete with those that do. That's why I'd highly recommend Making Websites Win."
The first-mover advantage: Why you need to start optimizing your website now
As long as you have a higher profit-per-visitor than your competitors do, then every day you'll have a slight unfair economic advantage over them.
The wider you make that gap, the faster you accelerate ahead. That gap becomes a moat that makes your business robust against competitors' attacks.
If your competitors aren't focusing on CRO already, they will be soon, because the market will keep getting more competitive.
Every day you're ahead, you have an unfair advantage—the wind is in your sails.
Every day you're behind, you have an unfair disadvantage—you're playing catch-up.
The difference depends on how soon you start and how fast you move.
Making Websites Win is useful for whatever job role you have
If you are a CEO or in senior management, this book will reveal the key activities on which your team should be concentrating.
If you are a web designer, product marketer, or marketing executive, this book will give you key skills and resources to make websites that beat their competitors and dominate their market.
In short, the skills you learn from this book will work for you now, and for whatever you do next.
By the time you finish reading Making Websites Win, you'll know what works in web design. You'll know how to write copy that sells. And you'll be able to easily spot mistakes in any web page—or, indeed, in any marketing materials.
Readers describe how they have profited from the advice
in Making Websites Win

Many readers say that Making Websites Win has changed their lives. It is rated 4.7 out of 5 on Amazon (in the US, UK, India, Australia, France, Germany, Mexico, and Canada) and Goodreads.
"Easy read, highly useful: I had a road trip the weekend after getting a copy of the eBook and quickly tore through the first 200 pages while taking notes so I could share key learnings with my coworkers. I've already recommended it to two people on my team. The book is full of great tactics, many of which we're already familiar with but described in a way that helps me understand the how and why more fully. What makes this book stand apart is how well they frame the topic (e.g. Power law of CRO can be used to help sales team), how easy it is to read, and how comprehensive it is. If you work with websites as all—design, developer, marketer—you need to read this book."
"Awesome! A true call to action: No words of mine could ever supplant the praise sung by CRE's clients, titans of industry and household names, the best and brightest of Silicon Valley and alike. Still: the book follows a coherent, structured flow that begins emphasizing the need to know what are the pathologies before prescribing the medicine, in a way that takes the guessing out of doing, bringing the scientific method to this arena. It stresses the need to "know thy target" in order to feel their pain, their needs, to "be in their shoes", in order to understand the prospects, and talk to them in an honest, straight, simple way. It is shock full of solutions, in a way that makes lots of sense. To put it simple (albeit the phrasing is a cliché, the meaning is not): highly recommended!"
"The book is truly gold"
"You can't afford not to read this: A book on Conversion Rate Optimization by world's leading agency for conversion rate optimization (CRO). This book is pure gold. As a Conversion Rate Consultant, its insights are fantastic. This isn't one of those many books that promises and then underdelivers. This delivers! Whether you're new to CRO or you're an expert, there's something here for everyone."
"Just halfway through the book and… it's just awesome. CRE guys really know what they're talking about. My biggest take so far: most people don't know anything about web conversion."
"One of the best books on marketing in years: Every copywriting great I've ever read, whether it's C Hopkins, Caples, Ogilvy, or Drayton Bird, have highlighted the importance of testing. And this books goes into the subject deeply. Best of all it shows you why, how and what to test using modern technology and tools. It's not just one guys opinion on what worked him and his business. It shows you how to cater your marketing and approach to suit your customers. Superb stuff."
"The real trade secrets for getting any website to perform well: I've been building and operating websites for just over 15 years, so I've dabbled in conversion rate optimization throughout. However, much of this has been "unstructured", just working on parts of the website as I think they need attention. When I first heard about this book I really wanted to get my hands on it, as I'd been following CRE for years. For me, the warm up act was the 70 pages of techniques for understanding your visitors and what they're doing (Section 2), but the icing on the cake—and the real trade secrets for getting any website to perform well—are in Section 3. 150 pages of expert, actionable advice. If you have a website that's crucial to the success of your business, an investment in this book could give you the best ROI you've ever seen!"
"The Bible for All Internet Marketers: If you've followed CRE for any amount of time, then you'll know all the quality of ideas they've published on their blog. Now, as if the the Council of Nicea put together a single resource for the definitive text for conversion rate optimization. Beginners and experts alike will find value out of this book."
"Entertaining and very informative: I've only read half the book so far but that half has been brilliant. Tone of voice and wording is clear and to the point and the information actually very useful. The way the stories are told is also highly engaging. For me the most valuable bits of the book (so far) were found in the Making Websites Win section, which focuses on the ingredients of a successful site. Well done guys—superb effort."
"Key secrets of conversion rate optimization finally revealed in a book!: Blissfully clear, easy to read and to the point, full of relevant advice and practical suggestions. Nobody should deal with digital marketing and CRO until they have read this book at least 2 times. And when they finish it, they should come back to it regularly."
"Great for SEO: A book written by true experts with a real passion for the subject. Optimisation is pretty much the future of everything based on software and taking the time to digest the wisdom here and more importantly applying it will serve you well. If I have a complaint it is that they actually undersell the value of CRO to SEO. Google's latest updates including rank brain focus increasingly on measuring user satisfaction. Better CRO = better user signals = better ranking = more SEO visits = better SEO. Just one more reason to take this book, read and apply."
"I have a massive list of ideas!: I'm an affiliate marketer and I've always known I could squeeze more performance out of my websites in terms of conversion rate. The problem was that I didn't know how to go about it. Now I do! Conversion Rate Optimisation is a complex subject but the guys at Conversion Rate Experts have broken everything down into simple to implement steps and strategies. They have also made this book incredibly easy to read and as such, I've already read it twice over the course of a weekend. I'm now reading it for the third time, making notes and an action plan as I go. I CANNOT WAIT to implement the DiPS formula and take my websites (and income) to the next level."
"Devoured in a weekend! Amazing!: This is not just a book about CRO, this is a whole manual about how to grow a business in a smart way. What I found particularly helpful is the step by step process they run through every time they go into a new business. 99% of the CRO experts talk about tactics to grow revenue. CRE is all about the scientific process to grow profits. I feel I am a smarter person after reading this book."
Seven reasons why the web's most sophisticated companies trust us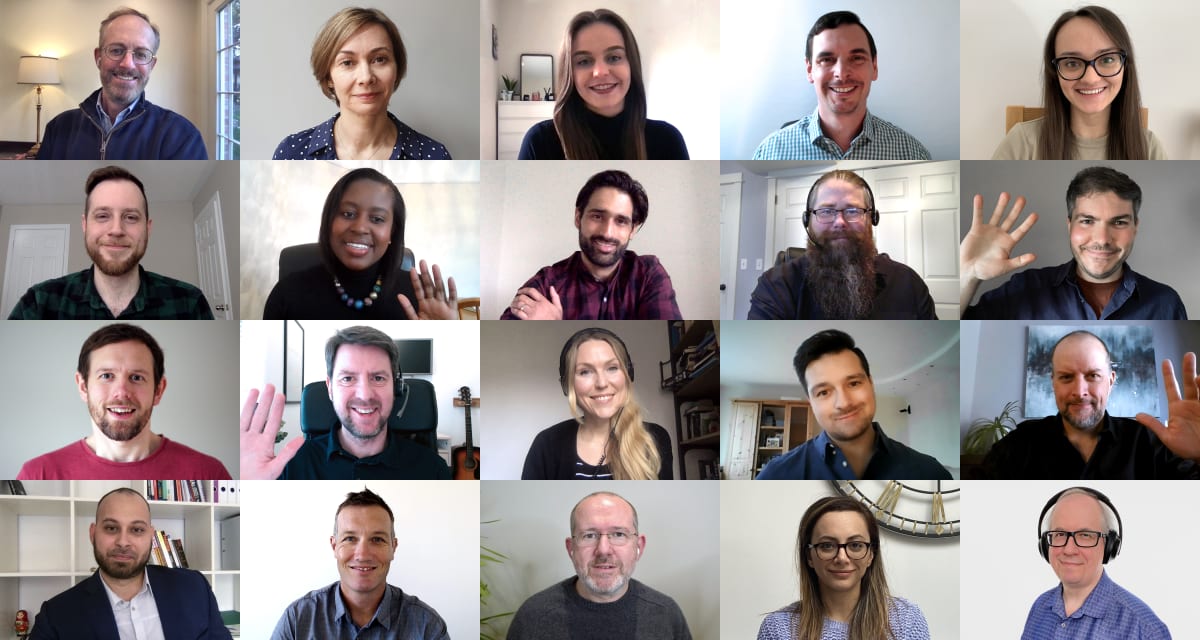 The world's leading agency for conversion rate optimization (CRO).
2
We were the first agency to insist that all of its recommendations be A/B tested to prove that they had been effective. (We trademarked CRO in 2007, but when the industry subsequently adopted the term we chose not to defend it, because we wanted the CRO community to grow.)
3
Our proprietary Wins Database allows us to draw upon 17 years of experiments, so we know for certain what works in each situation. For each win, we record the objections faced, the techniques used, and the outcomes—all tagged by variables such as type of website; market vertical; size of business; geography; conversion goal; and resulting improvement.
4
We've worked with clients in 11 languages in the following 40 countries. In alphabetical order, Australia, Austria, Belgium, Canada, China, Colombia, Costa Rica, Croatia, Cyprus, Czech Republic, Denmark, Dominica, Estonia, Finland, France, Germany, Hong Kong, India, Indonesia, Ireland, Israel, Italy, Japan, Lithuania, Luxembourg, Malaysia, Malta, Mexico, Netherlands, Norway, New Zealand, Peru, Poland, South Africa, Spain, Sweden, Thailand, UAE, UK, and USA. Our unusually broad perspective means we know what works in your region and what's working elsewhere in the world.
5
We've received two awards from Her Majesty The Queen. We received our first Queen's Award (the UK's highest award for business) for innovation, for codifying the scientific methodology that companies like Google and Amazon now use to improve websites. We received our second for outstanding achievement in international trade.
6
We are recognized authorities, regular speakers at industry conferences worldwide, and have taught at the University of Cambridge Business School. We have been featured in many leading publications, including Fortune, Forbes, Psychology Today, The Telegraph, and The Financial Times. We are a trusted advisor to startups at tech incubators. And we have been referenced in 12 books about online marketing.
7
We are first and foremost a company of entrepreneurs. We know how to make things work. Our team members include successful entrepreneurs, Amazon best-selling authors, Cambridge scientists, heads of agencies, veterans of direct response marketing, and former employees of Google, eBay, Ogilvy & Mather, and British Aerospace.
So why are we giving away our powerful growth strategies for free?
You're probably skeptical, and you should be. After all, if our results are so good, why would we give away our secret sauce for nothing?!
We're doing it for three reasons:
1
We aim for everyone to be in a better position for having known us, and we trust that our business will become even more successful. Since our founding in 2006, sharing our best thoughts, insights, and discoveries has helped us design pages for more top-500 websites than any other company.
2
Many of our clients started by implementing the advice from our articles, podcast, and book—like Mike Lee, co-founder of MyFitnessPal, who later hired us to help grow his business even faster before selling MyFitnessPal for almost $500m.
3
In a world where promises and claims are a dime a dozen, it's important to prove our worth. Making Websites Win contains many of the techniques we use to grow businesses—often with increases of over 50%, 100%, or more. Not all of them will apply to you, but one breakthrough idea is often enough to transform a business.
Moments from now, you can begin to benefit from Making Websites Win
We want to keep giving you value beyond the book. And one of the most valuable services we provide is that of a filter, directing our followers to the best new tools, companies, and sources of useful information.
When you subscribe to our genuinely useful newsletter, we'll send you our best discoveries and insights roughly once per week.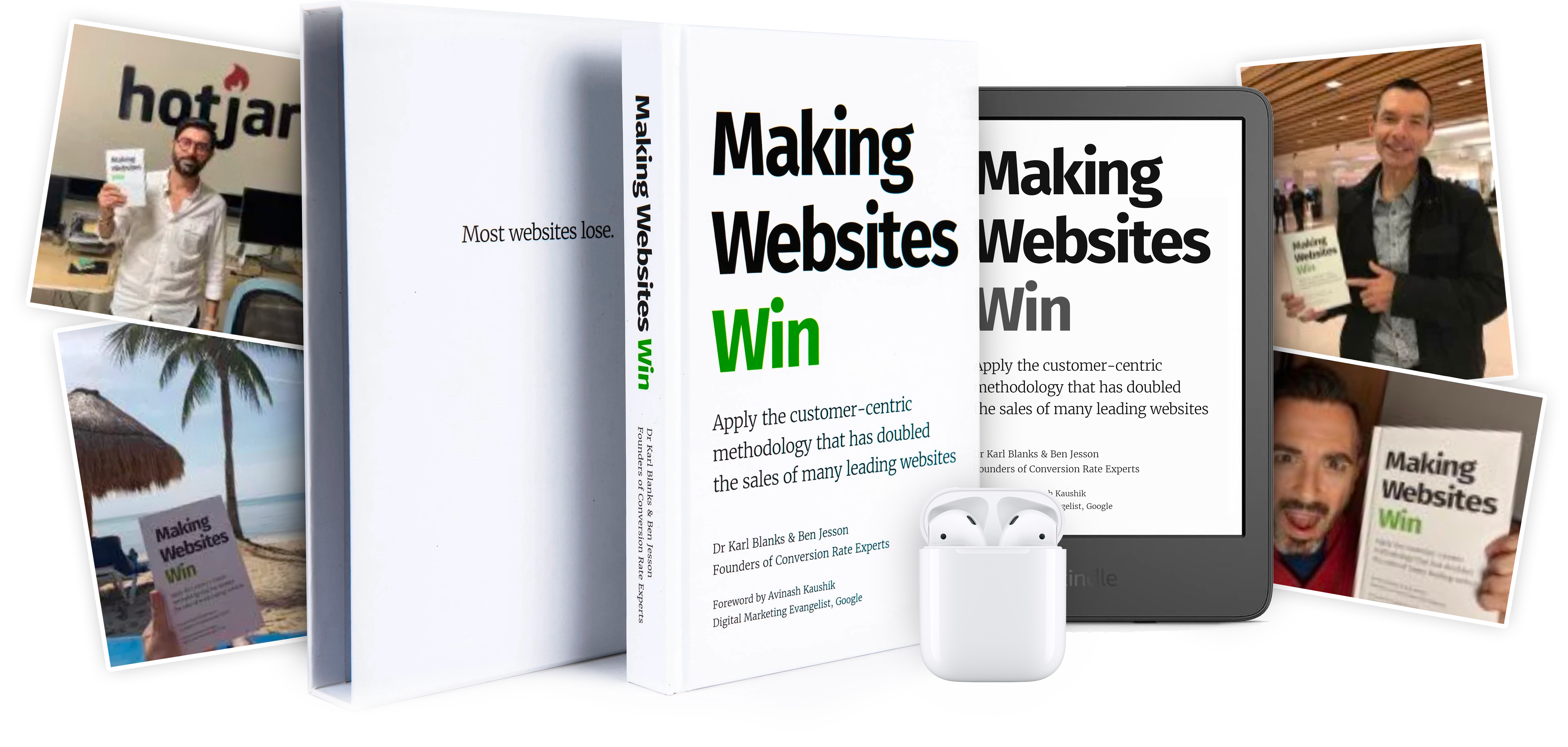 Claim your FREE copy of Making Websites Win by subscribing to our incredibly useful newsletter
Subscribe below to instantly download the entire book—all 354 pages—in PDF, Kindle, ePub, and audiobook format.
---
© 2023 Conversion Rate Experts Limited. All rights reserved.