Tips and tools: An update and some great resources
Here are some great resources we have recently shared with one another
(We don't profit from recommending things. We just love sharing things we think you'll appreciate. You can see our other Tips and Tools articles here.)

Here's a mix of company news and fantastic resources we have found—all woven together with some tenuous links to give a semblance of structure:
We have discovered an awesome advanced book about copy-editing
It's called It Was the Best of Sentences, It Was the Worst of Sentences: A Writer's Guide to Crafting Killer Sentences. It's so good, we have added it to our article The 12 best resources for improving your writing.
On the subject of writing…
…our book, Making Websites Win, stayed an Amazon best-seller for over three weeks, topping seven categories. In the US, we are about to run out of hardcovers, but more are on the way.
The book was recommended by industry leaders from Facebook, Microsoft, Unbounce, and Econsultancy. Dr. Dave Chaffey of Smart Insights, a client of ours, wrote this detailed review of it.
If you haven't got a copy yet, visit this page.
On the subject of books…
…we loved Rand Fishkin's book, Lost & Founder: A Painfully Honest Field Guide to the Startup World. It contains wisdom that few entrepreneurs discuss openly. We have been recommending it to fellow CEOs and business owners.
Also, in chapter nine of the book, ("Scalable Marketing Flywheels > Growth Hacks"), Rand Fishkin describes the work we did to grow his company, Moz.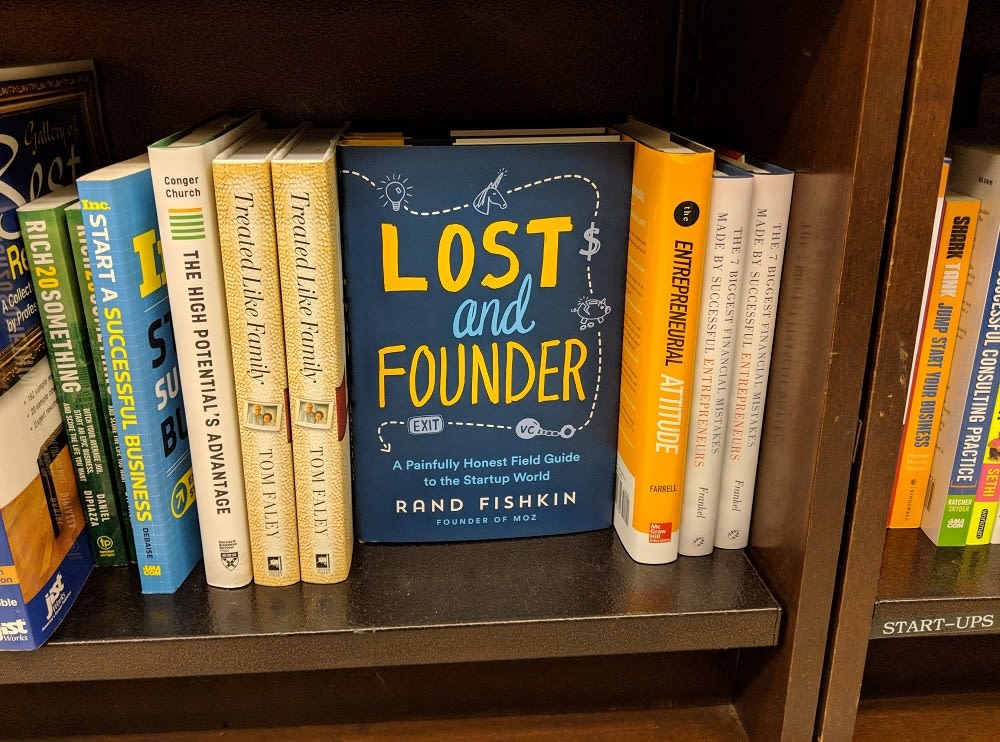 On the subject of Rand Fishkin…
…our founders, Ben and Karl, have invested in Rand's new venture, SparkToro. The details are in Rand's article SparkToro Raised a Very Unusual Round of Funding & We're Open-Sourcing Our Docs.
On the subject of SparkToro (can we really keep this theme going till the end?)…
…SparkToro has recently launched the SparkScore tool, which proved incredibly useful for our book launch. You can use it to identify the influencers with whom you should be working.
On the subject of useful tools…
…marketing agency Distilled has created a tool that lets you A/B test the effect that your changes have on your SEO rankings and traffic. The tool is called Distilled ODN. In this video, Distilled's CEO, Will Critchlow, gives a seven-minute overview of why it's so useful—though, as someone who "gets" CRO, you'll probably be mostly convinced just by the description of it. The article "What is SEO split testing?" contains a more detailed explanation.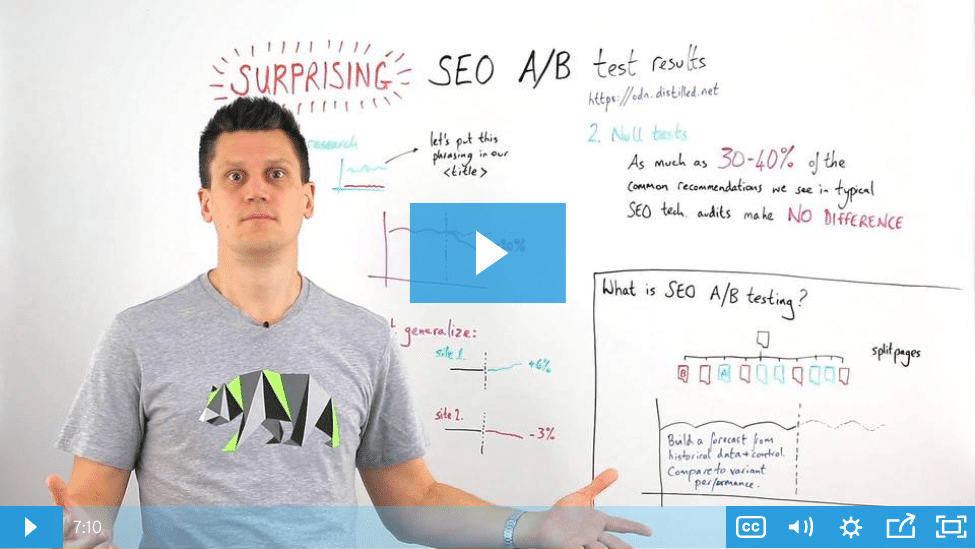 On the subject of A/B testing…
…we have been hard at work growing our clients' businesses. Since the last time we mentioned testimonials, we have published nine—nine!—new testimonials from clients whose businesses we have grown. Their headlines are as follows:
1. "The actual dollar ROI has been outstanding. We've had a number of experiments that have got 30% … 40% … 50% lifts in conversion rate."—Quimbee, an education company (see more)
2. "CRE has the unique advantage of being able to draw from its vast experience with the multiple clients it has worked with over the years, to tailor new tests to our business."—Verizon, a multinational telecoms company (see more)
3. "Our company grew exponentially"—Tesalate, a market-leading fashion brand (see more)
4. "The results have been exceptional."—Pritikin, a leading weight-loss company (see more)
5. "Really big results. Wins that had numbers that are almost hard to believe."—Best Worlds, a web development agency (see more)
6. "Working with the team at CRE has allowed us to accomplish way more than I ever imagined."—Magoosh, an education company (see more)
7. "All this cold analysis comes from a warm team who are a delight to deal with"—Focus Clinics, a world-leading clinic for laser eye surgery (see more)
8. "After some important research, we immediately saw a significant increase in the form completions. We've also improved the number of enrollments and starts."—Education Affiliates, another education company (see more)
9. "Some of the tests had increases in conversion rate of over 100%. That added hundreds of thousands of dollars yearly revenue."—Blexr, a performance marketing company (see more)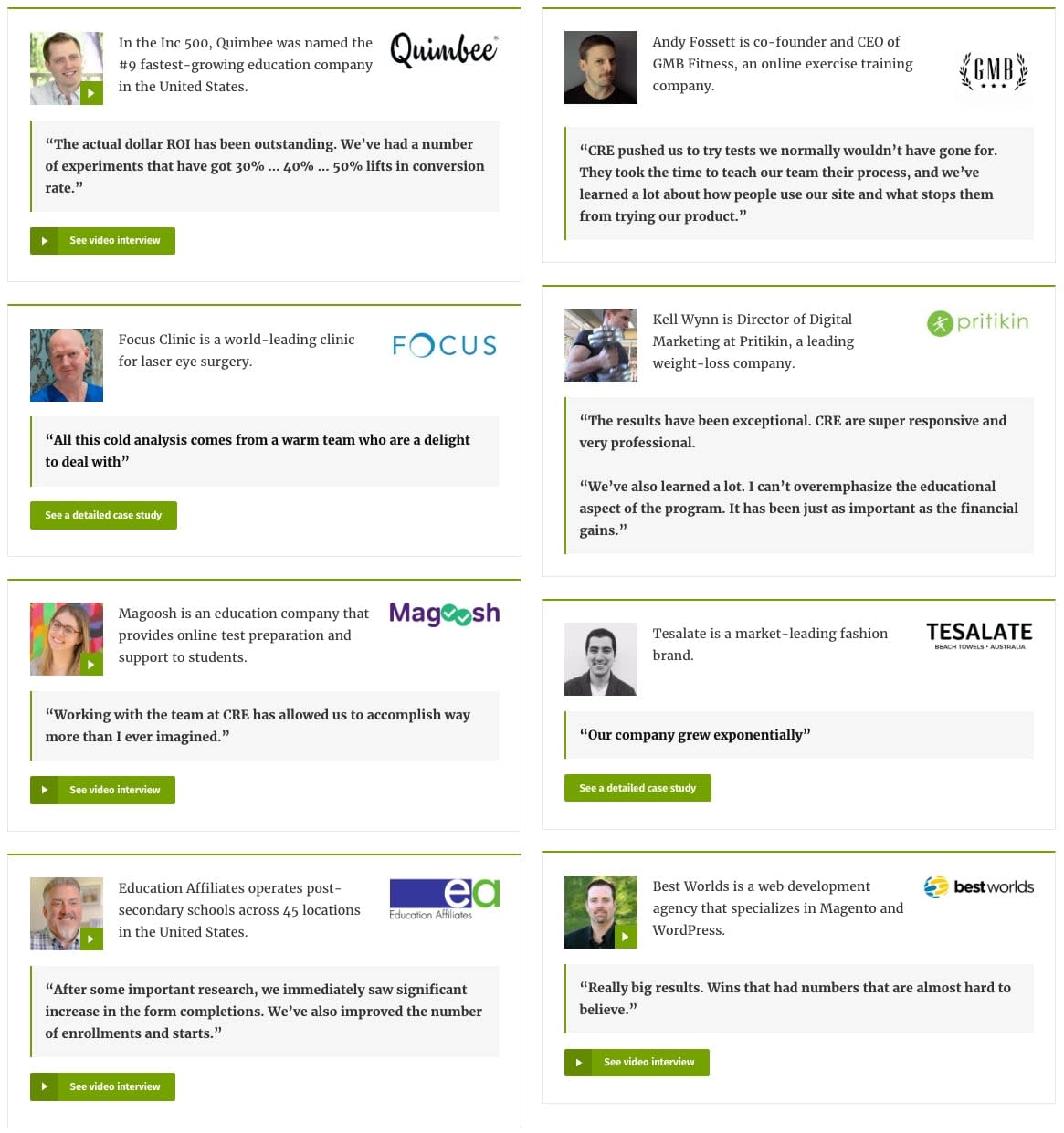 On the subject of measurable wins…
…this article from Sumo.com describes how the overlay text "Win $150 of store credit" got almost twice as many opt-ins as "Claim 10% off your purchase right now." One of the best ways to increase conversions is to change the offer, and this is a great example.
---
What's your goal today?
1. Hire us to grow your company
We've generated hundreds of millions for our clients, using our unique CRE Methodology™. To discover how we can help grow your business:
Schedule your FREE strategy session
2. Learn how to do conversion
Download a free copy of our Amazon #1 best-selling book, Making Websites Win, recommended by Google, Facebook, Microsoft, Moz, Econsultancy, and many more industry leaders. You'll also be subscribed to our email newsletter and notified whenever we publish new articles or have something interesting to share.
Browse hundreds of articles, containing an amazing number of useful tools and techniques. Many readers tell us they have doubled their sales by following the advice in these articles.
Download a free copy of our best-selling book
3. Join our team
If you want to join our team—or discover why our team members love working with us—then see our "Careers" page.
4. Contact us
We help businesses worldwide, so get in touch!
---
© 2023 Conversion Rate Experts Limited. All rights reserved.