Qualaroo (formerly known as KISSinsights): a free conversion tool you MUST use
To get articles like this free in your inbox, subscribe to our newsletter (the link opens in an overlay).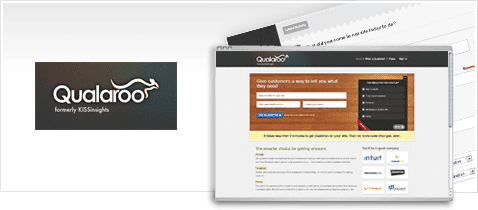 Have you used Qualaroo (formerly known as KISSinsights) yet? It's a fantastic tool from the people who created Crazy Egg and KISSmetrics. It lets you easily add smart-looking surveys to the bottom corner of your website.
Here are some of its features:
Choose what type of response you want: you can have radio buttons, multiple-answer checkboxes, or open text fields.
Choose whom you want to participate in the survey. For example, "Only show the survey to returning visitors who have been viewing the page for more than 50 seconds."
Ask several questions in one go.
Receive email notifications of responses.
Once the code has been added to your website, you can create and launch surveys entirely from within Qualaroo's control panel, so you don't require any further support from your web developers.
However, its best feature is that it's intelligently designed, and is easy to use. It just works. We started using it a few weeks ago, and we're hooked.
There's a free version, so give Qualaroo a try, and let us know what you think.
(By the way, that's not an affiliate link. We're vendor neutral, and we don't profit from recommending technology.)
Qualaroo is so good, we've added it to our illustrious list of conversion tools for understanding why your website's visitors aren't converting.
How much did you like this article?
---
What's your goal today?
1. Hire us to grow your company
We've generated hundreds of millions for our clients, using our unique CRE Methodology™. To discover how we can help grow your business:
Claim your FREE strategy session
2. Learn how to do conversion
Browse hundreds of articles, containing an amazing number of useful tools and techniques. Many readers tell us they have doubled their sales by following the advice in these articles.
Download a free copy of our Amazon #1 best-selling book, Making Websites Win, recommended by Google, Facebook, Microsoft, Moz, Econsultancy, and many more industry leaders. You'll also be subscribed to our email newsletter and notified whenever we publish new articles or have something interesting to share.
Download a free copy of our best-selling book
3. Work for us (we're actively hiring!)
If you want to join our team—or discover why our team members love working for us—then see our "Careers" page.
4. Contact us
We help businesses worldwide, so get in touch!
---
© 2021 Conversion Rate Experts Limited. All rights reserved.