We are delighted to announce that we have been invited to Buckingham Palace, where Her Majesty The Queen will present us with an award for innovation.
The award—a Queen's Award for Enterprise—is the highest official UK award for businesses. It has been given in recognition of us "codifying the scientific methodology that companies like Google, Facebook and Apple now use to improve websites."
Here's the email we received…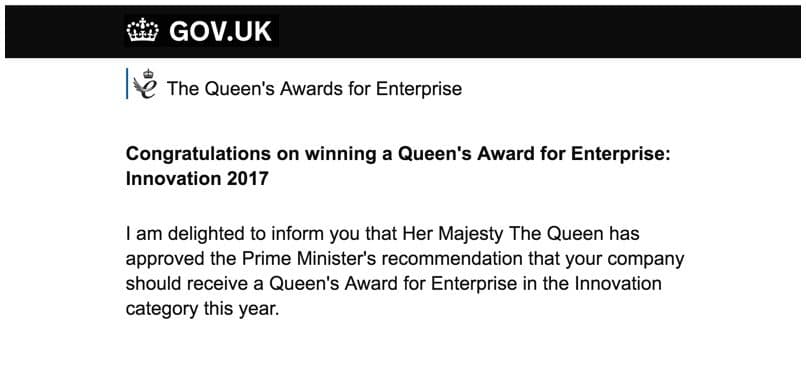 Update: The reception at Buckingham Palace
Our company was represented at the reception by our founders, Ben Jesson and Dr Karl Blanks. They got to enter the palace via the iconic route used for royal weddings and state events: through the main gates, past the Queen's guards, through the palace's central archway, and then onto the red carpet of the Grand Entrance.
Inside, Ben and Karl were fortunate to meet Her Majesty the Queen; Prince Philip, The Duke of Edinburgh; Princess Anne, The Princess Royal; and Prince Edward, Earl of Wessex—with whom they had the opportunity to discuss diverse issues including teaching technology in schools; working internationally; making websites accessible; and helping charities online.
The celebrations aren't over yet
Our team members are looking forward to getting together in the UK in September, when the Queen's Lord-Lieutenant will visit our UK offices to present the commemorative crystal and raise the royal flag.
Although we originated in the UK, we are now truly global (we've helped companies in 22 countries in 9 languages, and we are based in 7 countries).
---
Next article
Great resources: eye tricks, data visualization, how to start a business, and more
Previous article