Why Moz's Rand Fishkin calls CRO "the most important marketing activity"
The following is from our huge library of client successes—why not discover how we can help grow your business?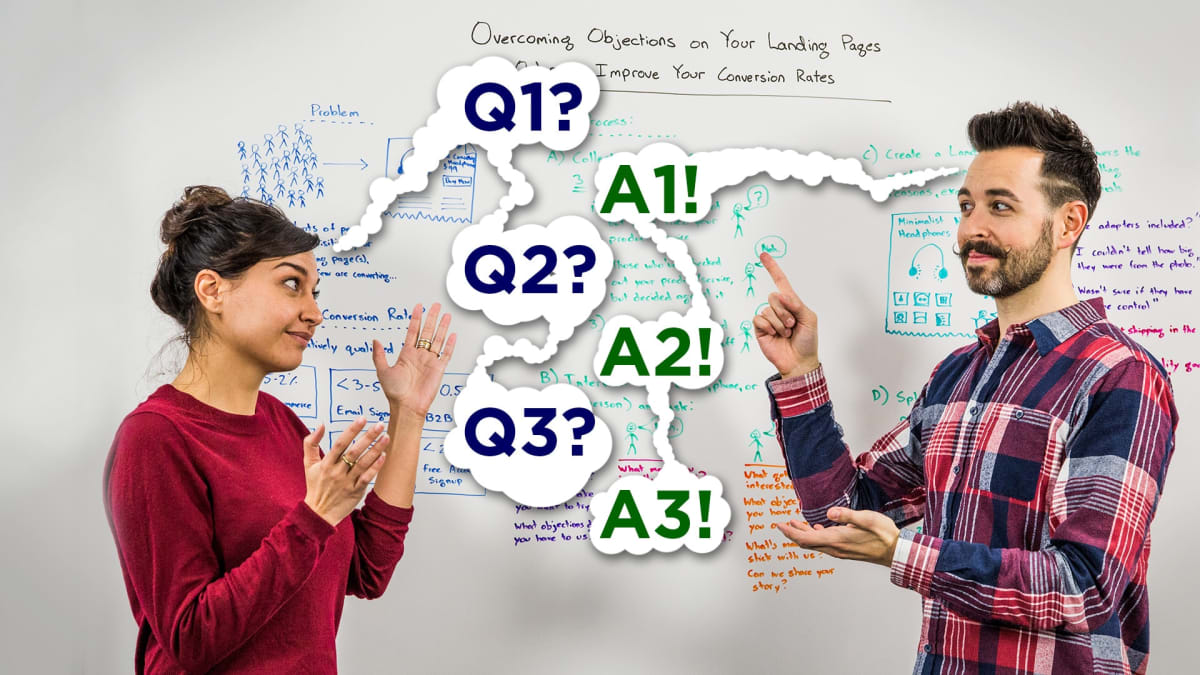 You may already be familiar with our case study of how we made $1 million for the SEO software company Moz.
The following interview reveals what happened next.
We recently spoke with Rand Fishkin (Moz's founder). As you probably know, Rand is a leading visionary and perhaps the industry's most famous marketer.
In the following interview, Rand describes the key decisions that grew Moz from $1.4m in 2008 to $42.6m in 2016.
He also explains why conversion rate optimization is "the most important marketing activity"—and how it has done much more than improve Moz's sales…
Q&A with Rand Fishkin, Founder of Moz
Q: Moz has made many bold changes to its business model. What triggered them?
Rand: Over the years, Moz has moved from consulting to subscription-based publishing to software as a service (SaaS).
Three catalysts led to those transitions:
1. We discovered what we were good at and passionate about—which was driving people interested in SEO to the site and providing them with valuable information for free.
Why free? My hatred for gated content is almost as deep as my love for the software business, and I stayed true to that part of myself. I firmly believe that having a deep knowledge of self is crucial for entrepreneurs and business leaders—it allows you to do what excites you both personally and professionally. Companies driven by engaged, passionate leaders dramatically outperform their less-excited peers.
2. We became drawn to the SaaS model for its scalability and high margins.
3. We sought to satisfy our venture capital investors. There is significant pressure to reach the exit point with as high a revenue multiplier as possible. If we were a consulting firm bringing in $42 million, we might reasonably expect to be bought for between one and two times our revenue. However, as a software business with that same revenue, we could reasonably expect a multiplier of three to eight. Every dollar you make in software is worth so much more when you exit or sell.
Q: How did you conclude that CRO was key to achieving your growth goals?
Rand: For a company seeking rapid growth—especially a venture-backed company like Moz—CRO is simply a must-have. CRO is the most important marketing activity because it makes every visitor exponentially more valuable.
Initially, we had high traffic, but few visitors took the next step. It didn't matter to the business if 50,000 visitors read our blog—what mattered was that we only had a handful of conversions from those visitors.
The disconnect presented a massive opportunity to leverage CRO—and so we did.
Q: How has CRO impacted the growth and direction of Moz's business?
Rand: Quite frankly, the first time I worked with your team, I didn't even realize how valuable CRO was…but I do now. I understand that CRO, at its best and broadest, is useful from both a product and a user experience perspective. It helps you understand your audience's intent, behavior, and preferences.
My favorite model—the model your team developed—involves asking different groups of customers and potential customers for feedback.
I can learn why they did (or didn't) buy, what they hoped to gain from their time on my site, what they found most (and least) valuable about their experience, and so much more.
Many times, CEOs, founders, and executives don't ask those questions soon enough (or at all). But when you get answers, you gain a new perspective—one that informs much more than your landing pages. It informs your company strategy, your product development, and your value proposition.
That's the beauty of the research process behind CRO: it can accelerate your growth and how you appeal to your market in ways you wouldn't have imagined.
Many people put CRO into far too small a bucket. They think of it only as a way to convert page visitors into buyers.
It is that, but it's also so much more.
Q: What would you say to any business owners who aren't yet taking CRO seriously?
Rand: I wrote that if I could go back in time, I'd have gotten religious about CRO sooner. When I speak about the most valuable web marketing activities, I always put CRO first.
I'd encourage anyone still on the fence about CRO to ask themselves one question: Why have you yet to invest?
If you're at too early a stage in your business and still need time to develop your product or boost traffic, that's reasonable. Forgivable, almost.
But if you've simply yet to grasp the power of the practice? You need to examine the case studies of companies that have built in CRO as a core capability and skyrocketed as a result.
Google won the search engine wars of the late 1990s and early 2000s by concentrating on the user experience beyond the simple entering of a search term.
Twitter recently released quarterly earnings that, for the first time in several years, beat analysts' expectations dramatically. CEO Jack Dorsey attributed the success to higher user engagement gleaned from an algorithmic timeline that better met the needs of site users—the exact principle behind CRO.
Bottom line: For Google, Facebook, and Twitter, it's never been about only optimizing technology. It's just as much—or more—about understanding user behavior.
Q: Moz is well known for having a customer-centric culture. What role does CRO play?
Rand: Incremental changes—such as changing the headline of a landing page—are indeed a component of CRO. But they aren't the main component—far from it.
I believe it's more important to take the view from several thousand feet up, above those more in-the-weeds questions about button colors or image placement.
Ask why happy customers are happy, why unhappy customers are unhappy, and what problems you're able to help them solve.
When Conversion Rate Experts worked with Moz, we took the long view. And what happened? We went from a $1.1 million run rate to a $2.8 million run rate almost overnight.
Those results were huge for Moz, and changed the trajectory of our business, touching everything from the direction of our product, how we invested, and how we approached changes to our business model. We've been improving ever since.
And we're not done yet.
Our takeaways from the interview with Rand
Here are some of our key insights from working with Moz.
Moz's values overlap with good CRO
Moz operates by what it calls the TAGFEE code; it focuses on being Transparent, Authentic, Generous, Fun, Empathetic, and Exceptional—values that are all conducive to successful CRO.
Transparency and authenticity lead to Moz talking publicly about its successes and failures. And when nobody fears failure, everybody feels safe to experiment. Like all our best clients, Moz understands that long-term success requires short-term failures. It's hard to get one without the other.
Moz's team goes to great lengths to practice empathy, the willingness to understand another person. Empathy is at the heart of great conversion.
Many companies turn to CRO because they face external pressure
Moz embraced CRO after facing pressure from an external source: VC investors. This is common. Many of our clients come to us because they face external pressures from
Investors
Changes to their competitive landscape
Shifts in the behavior or demands of their customers
Problems with their marketing channels
The scenarios that keep executives awake at night are often those that prompt an investment in CRO.
Of course, ideally, companies would embrace CRO from day one, as Rand wished he had.
CRO belongs at the C-level
When Rand hired us, he invited his entire executive team to join the project—the CFO, CTO, Chief Product Officer, Marketing Director, Creative Director, and Customer Service Manager. Why? Rand understood that CRO wasn't just about marketing—it was about developing the business as a whole. It served as a compass to guide the company toward fast growth.
It's easier to be customer-centric when you have a community
Moz is in tune with its visitors and customers because it is the hub of one of the world's largest marketing communities. As such, it has become adept at seeing the business through its customers' eyes. It can intuit which features they'll love. Such connectedness is rare in web companies.
Thanks to Rand and the team at Moz
We'd like to thank Rand and the Moz team for their transparency and generosity in sharing their story.
We encourage you to follow @randfish on Twitter and to read his articles about marketing, startups, and growing Moz.
How much did you like this article?
---
What's your goal today?
1. Hire us to grow your company
We've generated hundreds of millions for our clients, using our unique CRE Methodology™. To discover how we can help grow your business:
Schedule your FREE strategy session
2. Learn how to do conversion
Download a free copy of our Amazon #1 best-selling book, Making Websites Win, recommended by Google, Facebook, Microsoft, Moz, Econsultancy, and many more industry leaders. You'll also be subscribed to our email newsletter and notified whenever we publish new articles or have something interesting to share.
Browse hundreds of articles, containing an amazing number of useful tools and techniques. Many readers tell us they have doubled their sales by following the advice in these articles.
Download a free copy of our best-selling book
3. Join our team
If you want to join our team—or discover why our team members love working with us—then see our "Careers" page.
4. Contact us
We help businesses worldwide, so get in touch!
---
© 2023 Conversion Rate Experts Limited. All rights reserved.