How we made an extra £14 million a year for a travel company
The following is from our huge library of client successes—why not discover how we can help grow your business?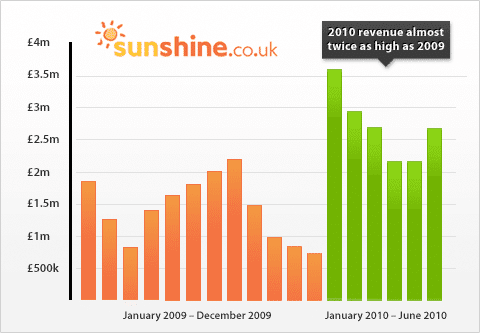 Sunshine.co.uk is a UK-based travel agency that offers cheap vacations. Within six months of working with Conversion Rate Experts, its conversion rate almost doubled.
This was achieved despite the fact that the rest of the UK travel industry was in crisis; the country was in the grips of a recession, airlines were collapsing, and the number of vacations booked was falling at its highest rate ever. In fact, during this period, the travel industry lost over £2.1 billion in profit. So, during this tough time, how did sunshine.co.uk double its revenue?
Conversion rate optimization, of course. (You had guessed that already, hadn't you?) In this article, we'll show you how we did it.
If you'd like to hear the sunshine.co.uk team's thoughts about this project, take a look at our interview with the team.
How we did it
Surveying your customers is the bedrock of a successful campaign
All companies know they should survey their customers, but few do it regularly. And even fewer survey their customers well. With sunshine.co.uk, surveying was the foundation for the massive increases in conversion.
"Surveying our customers with Survey Monkey was mind blowing. Normally, the main customer contact we have is when the customer has an issue with a booking. With the survey, we found that the silent majority loved us."—Chris Clarkson, Marketing Director of sunshine.co.uk
That's not all. The survey also helped us understand why customers loved sunshine.co.uk—which we could then emphasize on the website.
Here are our top three tips for surveying your customers:
1. Make your surveys more qualitative—If you stick to multiple-choice questions, it's easier to process the data for hundreds or thousands of customers. However, it won't be anywhere near as valuable as if you asked questions with open-text-field responses.
Don't get us wrong; multiple-choice questions have their uses, but we find that open-text fields are much more useful for improving your conversion rate.
2. Give customers an incentive to fill out the survey—The more people complete your surveys, the more valuable they'll be. sunshine.co.uk decided to offer everyone who filled out the survey the chance to win the cost of their last vacation—which could be as much as several thousand pounds. This investment paid off quickly when we started to implement and test the ideas generated by the survey's feedback.
3. The covering email is just as important as the survey and incentive—It's essential to get the email right, to ensure that as many people as possible fill out the survey. This is what we did to ensure sunshine.co.uk's email would be read:
In the subject line, emphasize the benefit to customers. That's why we used "Get your holiday free" instead of "Can you fill out our survey?"
Sell the survey as you would your products or services. We emphasized that the survey was easy to fill out ("it only takes about 3 minutes") and added the incentive ("win back the cost of your last holiday").
Emails should be personal. The more personal the email, the more likely people are to respond. That's why we included the customer's name in the email and signed it from a person, rather than from an impersonal marketing department. We emphasized this further by including a photo of sunshine.co.uk's managing director, Chris Brown (and Pluto!).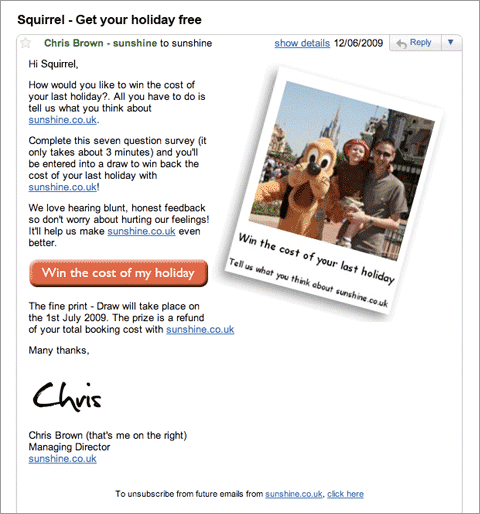 In addition to using Survey Monkey, we recommend Qualaroo (formerly known as KISSinsights) for surveys. Qualaroo provides an incredibly quick way of adding a short survey (usually just one or two questions) to a particular page. You can create and launch a survey in less than a minute (we timed it ourselves, and it took 55 seconds), which completely changes your approach to surveying.
Usability testing will make you rich
We started doing usability testing quickly and easily with remote testers from usertesting.com. While some testers were able to book a vacation easily—including flights, hotels, stopovers, and parking—others struggled.
"Usability testing was easily the biggest 'wow' and 'facepalm' moment." —Chris Clarkson, Marketing Director of sunshine.co.uk
Here are our top three tips for usability testing:
Don't test just your site; test your competitors' too—By comparing sunshine.co.uk against the competition, we were quickly able to see what it was doing right—and what it could do better.
Do it often—We carried out usability tests on every major redesign of the homepage, resort and hotel pages, and the booking process. This way, we could ensure the site was as user-friendly as possible before and after testing.
Do it now—This is the most important point. A lot of people think usability testing is a good idea but put it off indefinitely. Don't! You can get started in less than 10 minutes.
Know your analytics
Each type of research tool or technology gives you a slightly different view of your current business. Web analytics software such as Google Analytics or Adobe SiteCatalyst doesn't give much rich information about what's going on in your visitors' heads, but it does reveal a lot of quantitative detail about the flow of users through your website. It's particularly useful for helping you decide which pages to work on first.
sunshine.co.uk uses Google Analytics for its web analytics. It has also used Crazy Egg, which provides simple visual heat maps that show where your visitors are clicking on a given page.
Regular split testing is essential
Split testing with Google's split-testing tool became a built-in part of sunshine.co.uk's development process; nothing was changed on the website without being tested first. That way, we could see exactly which changes were increasing the conversion rate, which had no impact, and even which lowered the conversion rate.
It took just six split tests to almost double sunshine.co.uk's annual revenue. But we actually did ten split tests in total. The advantage of CRO is that you can't go backwards. If a test increases the conversion rate, you switch to the new version and increase revenue immediately. And if it doesn't increase the conversion rate, you just stick with the original.
What we changed
Make it clear why you rock
When we started working with sunshine.co.uk, it wasn't immediately clear why visitors should use its site rather than one of its competitors'.
To find out, we spoke with two of sunshine.co.uk's founders, Chris Clarkson and Alan Gilmour. They had the inside knowledge of the travel industry and could tell us how they were different from the competition.
We also studied the data from the customer survey. We wanted to find out what customers liked about sunshine.co.uk and how they'd describe the company to a friend.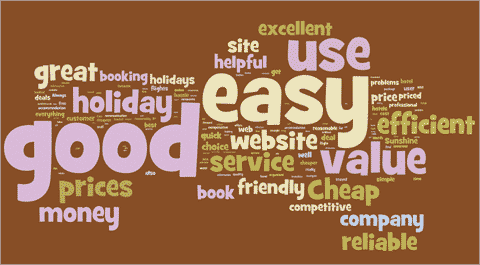 We took all of this data and distilled it into four main benefits:
Lowest-price guarantee—sunshine.co.uk has incredibly low prices for vacations, so we backed this up with this compelling guarantee: If you can find a cheaper vacation, we'll refund the difference—and give you a fiver on top.
Peace of mind—Prospects were understandably anxious about the turmoil in the travel industry. sunshine.co.uk recognized this objection and emphasized a guarantee that allayed the prospects' concerns: If a supplier goes out of business, you can claim your money back from us.
ABTA-bonded—sunshine.co.uk is bonded by ABTA, the UK travel trade association. This reassures visitors even more that their booking and vacation are secure.
No hidden charges—When booking a vacation, most customers are used to having baggage fees, taxes, and fuel surcharges added on. Not with sunshine.co.uk, which includes all of these from the start. It even includes supplier failure cover for free (most competitors charge extra for this).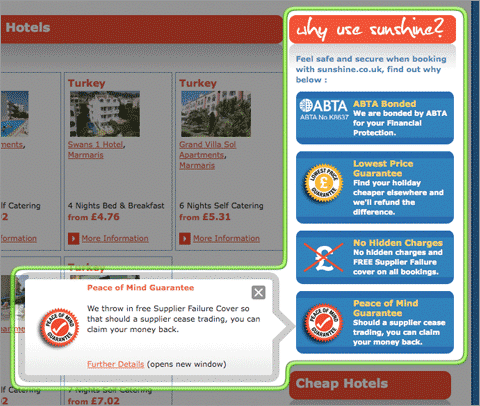 These were sunshine.co.uk's main benefits; they weren't based just on vague opinion but were verified by customer research. By clearly communicating these benefits, we increased the conversion rate.
Uncover—and overcome—common objections and misunderstandings
Improving conversion isn't just about expressing benefits; it's about overcoming all the major objections.
Here's one objection we identified: sunshine.co.uk's prices are so low, they're often unbelievable. (At the time of this writing, you can get a trip to the Algarve, including flights and accommodation, for just £91 per person for a whole week!)
In our usability tests, we discovered that visitors were often confused about the prices. Prospects weren't sure if the prices were per person, if they were per night, or if flights and hotels were included. Ironically, the prices were so low that the company was harming its own conversion rate.
By clarifying the pricing, and what it included, we increased the conversion rate by 19%, adding an amazing £4 million to its annual revenue.

Turn negatives into positives
Visitors and usability testers often commented that no phone number was displayed on the site. This is deliberate—sunshine.co.uk keeps its costs down by accepting bookings online only.
But it can look odd if there isn't a phone number. As one usability tester commented, "You make the website really friendly, but you also make it hard for people to call you."
So instead of brushing over the fact that there was no phone number, we promoted the fact that it didn't have one.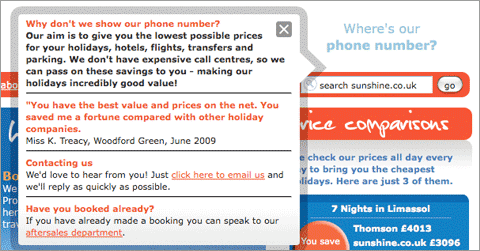 At the top right of every page—where you'd normally expect to see the phone number—it now says, "Where's our phone number?" Clicking on the text opens a pop-up that contains the following text:
"We don't have expensive call centres, so we can pass on these savings to you—making our holidays incredibly good value!"
The negative was turned into a positive—and visitors to sunshine.co.uk regularly comment on this feature now.
What all this meant
Here's a short video interview, in which Chris Clarkson from sunshine.co.uk discusses his experience of working with us:
1. Annual revenue increased to £31 million
In 2009, sunshine.co.uk's sales were £17 million; in 2010, sales were on target to hit £31 million. That's a huge £14 million a year extra, as a direct result of its work on conversion rate optimization.
But it doesn't stop there. Because the conversion rate almost doubled, it also meant that…
2. Travel affiliates could double their commission by working with sunshine.co.uk
sunshine.co.uk already had a successful affiliate program. And when its conversion rate increased, it wasn't long before affiliates started to notice, making the program even more successful.
sunshine.co.uk's biggest affiliate noticed that the pay-per-click (PPC) traffic he sent to sunshine.co.uk was converting twice as highly as the traffic he sent to competitors, so his earnings doubled.
We expect that sunshine.co.uk's revenue will increase even further, as more affiliates discover the agency's super-high conversion rate.
3. PPC offered huge potential for growth
PPC had previously been too expensive for sunshine.co.uk to consider. But with the higher conversion rate, huge volumes of traffic were suddenly available to the company.
As a result of working with Conversion Rate Experts, sunshine.co.uk could afford to increase its bids on PPC profitably—knowing that its higher conversion rate would mean it would still make a strong profit.
As a result, PPC is becoming one of sunshine.co.uk's biggest growth areas. It's likely to be a huge source of traffic, which will allow the company to increase its market share rapidly.
Thanks to sunshine.co.uk
We'd like to thank Chris, Alan, and the rest of sunshine.co.uk for their hard work during this project—and for allowing us to share this case study with you. We'd also like to thank Michelle from Caboodle Design. Without all of their help, none of the successes above would have been possible.
Our gift to you: a free PDF of conversion tips
If you'd like a PDF of some advanced conversion tips, just sign up to receive our free newsletter. All of these tips are currently being used by sunshine.co.uk, but they're applicable to almost any type of website. We'll send you a copy of the PDF straight away. It's a quick two-page guide of advice that'll help you boost your conversion rate.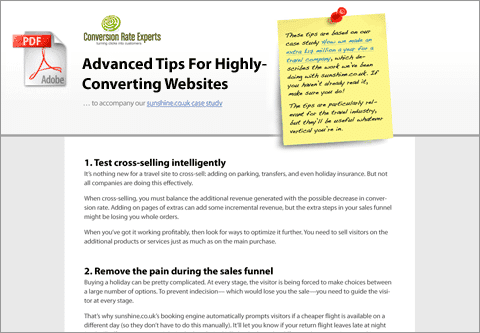 Want more case studies like this?
If you would like to see more of our clients' results, you can find a long list on our "Clients and Results" page.
---
What's your goal today?
1. Hire us to grow your company
We've generated hundreds of millions for our clients, using our unique CRE Methodology™. To discover how we can help grow your business:
Schedule your FREE strategy session
2. Learn how to do conversion
Download a free copy of our Amazon #1 best-selling book, Making Websites Win, recommended by Google, Facebook, Microsoft, Moz, Econsultancy, and many more industry leaders. You'll also be subscribed to our email newsletter and notified whenever we publish new articles or have something interesting to share.
Browse hundreds of articles, containing an amazing number of useful tools and techniques. Many readers tell us they have doubled their sales by following the advice in these articles.
Download a free copy of our best-selling book
3. Join our team
If you want to join our team—or discover why our team members love working with us—then see our "Careers" page.
4. Contact us
We help businesses worldwide, so get in touch!
---
© 2023 Conversion Rate Experts Limited. All rights reserved.