Q&A: How sunshine.co.uk overcame the recession and doubled sales in six months
The following is from our huge library of client successes—why not discover how we can help grow your business?
Our clients Chris and Alan of sunshine.co.uk kindly share exactly how their company overcame the worst recession the travel industry has ever faced and added almost £14m to its balance sheet in 2010. How did the company grow so fast while its competition was shrinking? In three words: conversion rate optimization.
If you're unfamiliar with the term "conversion rate optimization" (CRO), it is the science of turning more website visitors into customers.
Q&A with Chris Clarkson, Marketing Director, and Alan Gilmour, Technical Director, from sunshine.co.uk
Q. So before we get into the behind-the-scenes questions of the project, can you paint a picture of how sunshine.co.uk approached marketing previously?
Chris: In the beginning we were selling holidays as cheaply as we possibly could. We were working on low margins and hoping for high volumes. Our original marketing approach was based on SEO and affiliate marketing.
Q. Why did you choose to work with Conversion Rate Experts?
Chris: Because of our work with SEO and affiliates we were looking for other ways to improve the website. We already had the traffic and CRO is about making better use of it—essentially more sales without more advertising costs.
Q. Were there any downsides to implementing CRO in your business? What were some of the major challenges you faced during the project?
Chris: Mostly the requirements on the development team as you get used to this new process where everything is tested. The actual changes we made and the surveys and stuff like that brought up a lot of issues. So creating content to combat these issues took time.
Alan: Every time we did a new test the results meant we would have to make changes to the site. So it's not only the initial test that you have, you also have the results of the test that you then have to verify before you can start the next test. So as Chris said, there is quite a lot of development involved.
Q. Anything else you can think of, challenges, etc.?
Chris: Everything else we were quite up for. We were fairly committed from the start, which I think you have to be. We had other projects in line for development and they kind of got pushed aside with the time this was taking. But we got good results pretty much from the start so we knew it was a worthwhile sacrifice to make.
Q. How long was it before you saw the positive results from the project?
Chris: It was about 8 or 10 weeks after we started—that's when we implemented the first changes based on surveying and testing.
Q. So how did things get broken down so that the project was more manageable? Where exactly did you start?
Chris: The very first thing we did was a customer survey that asked 8 or 10 questions and we got a lot of feedback from that. This helped us decide which direction we should take.
Alan: I would just say usability issues were where we spent quite a bit of time, making sure the customer could easily get from the initial search stage right through to the final booking stages. We'd find any hiccups then spend quite a lot of time getting user testing done by other users to improve the things we assumed were working but which were causing problems.
Q. What were some of the major lessons you learned along the way?
Chris: Test everything, that's probably the main thing. Any changes are split tested to make sure they get a positive result. User testing is an extension of that and is something that gave us the biggest "face-palm" moments. You see something that seems pretty obvious to you, but when you see an actual customer using it… well, it is something everybody should do.
Q. So if you were talking to a business owner who has never conducted a usability test before, what would you say to them or what information would you pass along?
Chris: They really, really should do usability testing; it's quite an eye-opener.
Alan: And be open to try anything and not to take anything personally because there have been a few suggestions in the past where we said, "That's just never going to work," and it has. So you just have to be open to anything.
Q. So what were some of the "worth their weight in gold" findings from the usability studies that you did?
Chris: This one doesn't directly relate to conversion rates, but a high majority of contact you have with customers on a day-to-day basis is when people have issues and complaints. We did the survey and one of the first questions we asked was "How would you rate sunshine.co.uk?" A massive number of customers were giving us 10, 9, or 8, and they were the silent majority. But of course in your day-to-day dealings, you tend to speak with the small number of people who have had problems, so you forget that 96% or 99% of your customers had really good service, and it all went well for them. So that was quite an eye-opener, if you like.
Alan: We saw that and realized we needed a testimonial section on the site to share all the good feedback we had.
Q. What is the influx in revenue going to enable you to do?
Chris: We'll be reinvesting and taking our profits and buying geo-domains to create smaller sites in particular areas. We are also going to apply the lessons we've learned from Conversion Rate Experts across those sites as well. One of the really good things about using them is they don't do everything for you; they're teaching you. So it has been a good learning experience.
Q. So I know that a lot of experiments and split tests were done during the project. Is there one that really stands out for you and what was learned?
Chris: I think one of the first ones we did was with the deals on our home page and it essentially gave you a rundown of the flight: where it was going and how many nights, price, etc. From the feedback again it was pointed out that it seemed too cheap and didn't actually explain what was included. So we added more information. I think simply adding another sentence to the box got us a 19% conversion rate increase. That was when I realized that this is a good thing.
Q. What software and online tools did you use during the project?
Alan: The main thing that we were working with was Google's split-testing tool and that's enabled us to do all our split testing. It's not really affecting the site dramatically and just operates in the background so that when customers arrive at the site they're not aware that anything is being tested in any way. And the tool has extensive stats so you can log in and see how many bookings you've received or how many users have converted. I think that's been the basis of all our testing so far.
But we have used other software that was recommended like Qualaroo for asking the customer questions when they arrive on the page and adding a sitewide "Give Feedback button" to provide an open invitation for visitors to speak their minds.
Chris: Yeah, and we used Survey Monkey quite extensively as well.
Q. One of the things that I found most interesting was how you were able to turn a negative page element into a positive without changing your business. Can you talk about how testing not having a phone number listed on your site played out?
Chris: We never really had the phone number in the first place and we just didn't make anything of it. But through user testing from the customers we found it was an issue. Some people seemed to think it caused trust issues, so Conversion Rate Experts suggested we take a different view of it and explain why we don't have a phone number. The testing showed a positive result. In fact, most people seemed to quite like the explanation behind it.
Alan: And on a similar topic, recently on our booking pages we added the booking phone number for anyone who has a question when they are actually in the booking process. We noticed that even without people phoning in, just having the number there seems to be increasing the conversion.
Q. So to wrap things up, would you say the project affected your business philosophy and the way you run things?
Alan: Yeah, I think so. A lot of the time when we're thinking of new things to add to the site, the first thing we do is try to think of it from a user's point of view and how we can make it work in a similar fashion with all the improvements we've had with Conversion Rate Experts. So we want to use those things and just get it right from the start rather than just putting it up and hoping we've got it right and worrying about it later.
Chris: Yeah, measure, always measure.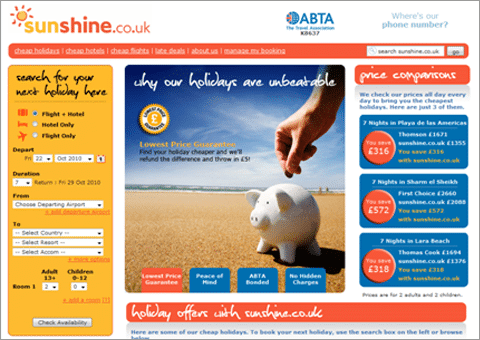 Curious for more information?
If you want even more strategies to grow your business, check out the sunshine.co.uk case study, which shows how we made an extra £14m for the company. The case study gives a complete breakdown of the experiments we ran. As an added bonus, at the end of the case study you can download several free PDFs packed with even more quick wins and pro tips you can take to the bank.
---
What's your goal today?
1. Hire us to grow your company
We've generated hundreds of millions for our clients, using our unique CRE Methodology™. To discover how we can help grow your business:
Schedule your FREE strategy session
2. Learn how to do conversion
Download a free copy of our Amazon #1 best-selling book, Making Websites Win, recommended by Google, Facebook, Microsoft, Moz, Econsultancy, and many more industry leaders. You'll also be subscribed to our email newsletter and notified whenever we publish new articles or have something interesting to share.
Browse hundreds of articles, containing an amazing number of useful tools and techniques. Many readers tell us they have doubled their sales by following the advice in these articles.
Download a free copy of our best-selling book
3. Join our team
If you want to join our team—or discover why our team members love working with us—then see our "Careers" page.
4. Contact us
We help businesses worldwide, so get in touch!
---
© 2023 Conversion Rate Experts Limited. All rights reserved.