The best survey tools (and how to use them to grow your business)
Techniques 7–12 of "Tools for UX and CRO: The Ultimate Guide for 2017"
This is one of a series of articles. In the first part of the series, we explain why these techniques are the most reliable way to grow hugely any business. The first part also contains an infographic that summarizes the whole series. In this part, we describe some amazing survey tools, and how to make the most of them.
And then we describe two ways to use search to increase your conversion rate.
(None of the links on our website are affiliate links. We're vendor neutral, and we don't profit from recommending technology.)
Technique 7: Using survey tools (to ask your visitors and customers whatever you want to know)
Your customers know the answers to a surprising number of your marketing questions. Why not ask them?
Good questions to ask your customers
The following questions can provide invaluable insights. We recommend you identify the ones that will populate the gaps in your existing knowledge.
"How likely are you to recommend us to a friend or colleague?" Answers should be on a scale of 0 (not 1) to 10. This is known as the "Net Promoter Question." It can be deceptively useful. See this page for the theory behind it, and details of how to analyze the data from it.
"In the past six months, have you criticized or spoken highly of [YourCompanyName] to a friend, colleague, or family member? If so, please give details." This is a great way to jog the customer's memory and elicit specific criticism or specific praise. In the latter case, you might get a response that could be used as a testimonial. (If you want to use it that way, be sure to get permission first.)
"If you could have us create something just for you, what would it be?" Your customers can be a good source of ideas for new products, and this question is a great way of collecting those ideas. More straightforward—but less thought-provoking—wording would be "What other products or services should we offer?"
If you don't know how you differ from your competitors, there's a good chance your customers can tell you. "How would you describe us to a friend?" reveals why your customers like you. Similarly, you could ask a question along the lines of the following: "Which other options did you consider before choosing our product or service?" or "Why did you decide to use us?" It's particularly important to ask questions from this group before you undertake any re-branding exercise, so you understand what your existing positioning is.
"Do you use us for all your [ProductType] or do you also use alternative companies? If so, why?"
"Why do you use [YourCompanyName or YourProductName] rather than the alternatives?"
If you want your customers to use you more often, you could do worse than to ask them "What would persuade you to use us more often?" Can you see how survey questions can save you a lot of trial and error?
"How could we persuade your friends or colleagues to use us?" "If you were in charge of our company, how would you persuade people like yourself to use us?" and "If you were in charge of our company, how would you spread the word about us?"
We wrote the following article for Inc, describing the following great question to ask your customers: The Answer to This One Question Will Skyrocket Your Sales.
Not every answer will be valuable, but even a single gem can lead to a boost in profits.
For more about this subject, see our talk "Golden questions" that reveal exactly why your visitors aren't converting (slides and video)."
Asking questions to your non-customers
One of the hardest tasks in web marketing is to capture the views of visitors who aren't persuaded by what you're currently offering. In this situation, you may choose to drive some of that traffic to a survey page, and then offer an incentive—maybe a free report—for completing the survey. By asking open-ended questions to these visitors, you can learn what they were searching for, and what you'd need to do to provide it.
Other things you need to know about your customers
You need to know which of your products your customers like most, and why.
The products that are most-liked aren't necessarily the ones that you sell most of. Just because a restaurant might sell a lot of lasagna doesn't mean their lasagna is well-liked. In fact, it might be deterring customers from ever coming back.
By knowing which of your products is most-liked, you can
Design the most effective sales funnel, so your most-liked products aren't hidden away.
Improve your existing products, to make purchasers more likely to buy from you again.
Your survey can constantly be changing, which will allow you to keep getting deeper insights into your visitors and customers. A survey may reveal insights that you decide to explore further in subsequent surveys.
Survey tools
We often use the following survey tools: SurveyMonkey, Google Forms (which has few features, but is agile) and Alchemer. Alternatives include Survey Anyplace (specifically for mobile), Wufoo, Clicktools, Polldaddy, Typeform and Uservoice.
If you have no one to survey—perhaps because you're working on a startup or a product for a new market—then Google Consumer Surveys can be useful. You choose your target audience from Google's panel of users, type your questions, and then receive responses within hours. It works best for products and services that have broad appeal. Similar, but more flexible, is Pollfish.
Technique 8: Using exit survey tools (to ask your visitors why they didn't take action)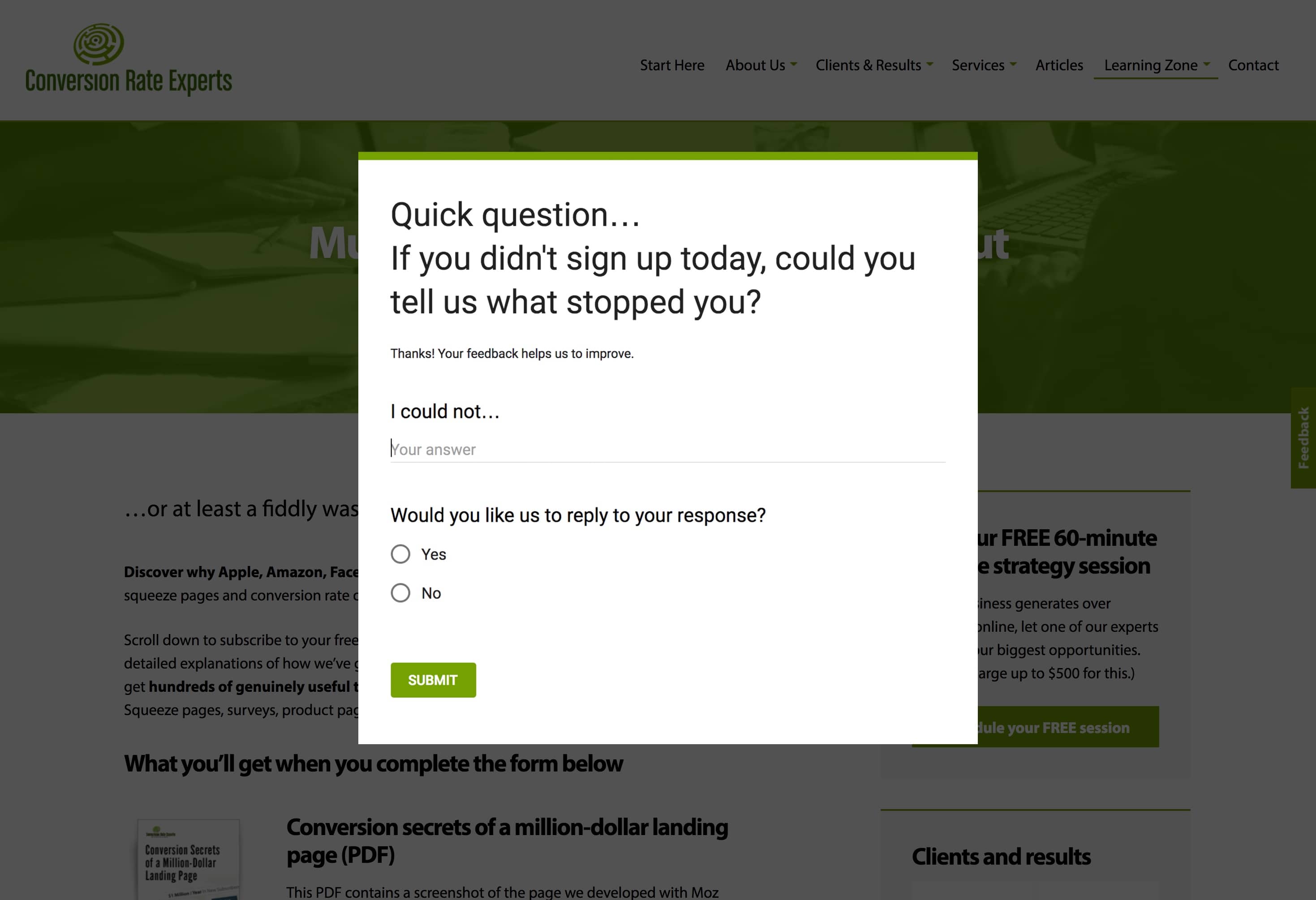 One of the best times to capture your visitors' objections is as soon as they have them: at the moment that they leave your website. The following questions can come in useful in exit surveys:
Question 1: What was the purpose of your visit?
Question 2: Were you able to complete the purpose of your visit today?
If they answer no to Question 2, ask Question 3: What stopped you completing the purpose of your visit today?
If your website has multiple distinct segments of visitors, you may choose to add a question that reveals the visitor's segment too.
Exit survey tools
iPerceptions provides a ready-made way of implementing exit surveys. You can also create them using Usabilla, Informizely, Qualaroo (mobile-friendly), Hotjar (mobile-friendly), and ForeSee.
Technique 9: Using on-page survey tools (to ask questions at exactly the right moment)

Some information can best be obtained by surveying your visitors while they are on a specific page. In doing so, you can ask questions at the exact moment that the visitors are thinking the thoughts you want to capture. On-page survey tools let you add surveys to the corner of a page or, more prominently, to its middle, obscuring the other content.
You may want to consider the following options:
What type of response you want. You can have radio buttons, multiple-answer checkboxes, or open text fields.
Who will participate in the survey. For example, you can arrange to "Show the survey only to returning visitors who have been viewing the page for more than 50 seconds."
Ask several questions in one survey.
Receive email notifications of responses. Sometimes respondents ask questions to which they expect answers.
On-page survey tools
We often use Qualaroo (mobile-friendly), Informizely, and Hotjar. Alternatives include Feedback Lite, PopSurvey and WebEngage.
Technique 10: Using a persistent "Give Feedback" button (to allow your visitors to report issues to you)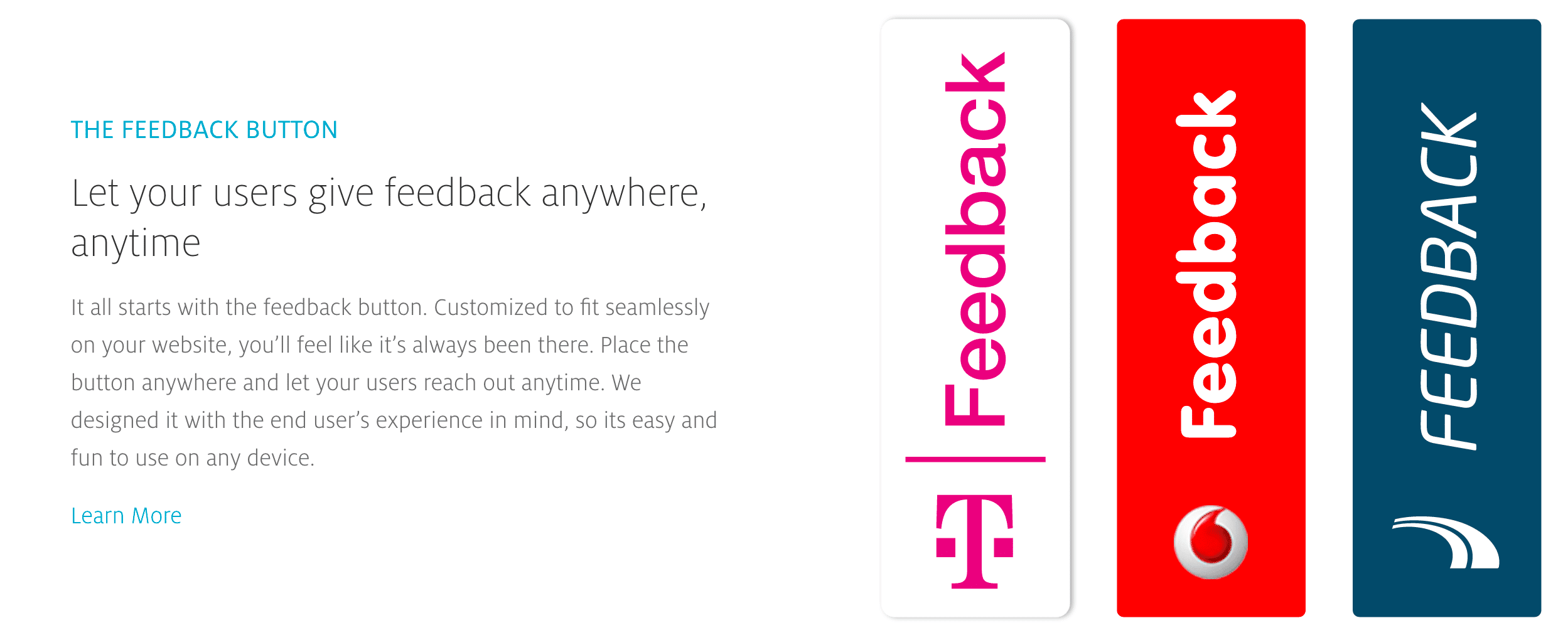 Have you ever been frustrated by a website, but couldn't find any way to communicate your frustrations to its creators?
Your own visitors never need to feel that way. Simply add a "Give Feedback" button to every page of your website. Such buttons tend to be placed statically on the side of the page, like a little Levis tab (albeit one that slides down your jeans when you stand up).
We have such a button on our website. It's a green "Feedback" button on the right-hand side of each page.
You can easily add a "Give Feedback" button using one of the following solutions: Survicate, FeedbackLite, Feedbackify, Usabilla, Qualtrics, and SurveyGizmo (the "Give Feedback" button is one of its many features). For Conversion Rate Experts' website, for reasons of leanness, we don't use a hosted software solution; we simply link our "Feedback" button to the form on our "Contact Us" page.
The software hosts the feedback forms, and then allows the website's creators to view—and manage—the responses. (In several of the apps, the feedback is managed using an interface similar to that of an email client, having an inbox and folders.) If visitors leave their email addresses, the website's customer-support team can easily reply to the feedback.
Though "Give Feedback" buttons are simple, they can be highly effective, acting as a persistent open invitation for feedback.
Technique 11: Using your website's search tool (to discover what your visitors can't otherwise find)

Your website's "Search This Site" feature is useful in two ways. Not only does it help your visitors find what they are looking for, but it also provides you with a wealth of information about how to improve your website.
Look through the search logs for a particular page.
Are visitors searching for content that doesn't exist? If so, consider adding it to your website.
Are they searching for content that does exist? If so, check whether the search would have revealed the most relevant page. Also, consider whether the content they were looking for should be added to—or made more prominent on—the page from which they launched their search.
What language do the visitors use in their searches? Consider aligning your language with theirs.
Technique 12: Using search engines (to be notified when people say things about you)
Several search engines track mentions in real time, allowing you to discover what people are saying about your website on blogs, forums, and in social media. The following tools can be useful: Moz Fresh Web Explorer, Google Alerts, Talkwalker Alerts, Mention, NinjaOutreach, Twitter Search, BuzzSumo and Facebook.
Salesforce Marketing Cloud provides powerful tools for real-time analysis and monitoring of social media.
As you read through the results, make a list of what people are saying. What do they like about your website? What don't they like about it?
Then consider how you can fix any problems.
When we re-designed our own website, we used this technique to make a list of people who had commented on our old website. We then personally asked those people for feedback about our new design.
This article is one of a series that began with an infographic here. The next part is here.
---
What's your goal today?
1. Hire us to grow your company
We've generated hundreds of millions for our clients, using our unique CRE Methodology™. To discover how we can help grow your business:
Schedule your FREE strategy session
2. Learn how to do conversion
Download a free copy of our Amazon #1 best-selling book, Making Websites Win, recommended by Google, Facebook, Microsoft, Moz, Econsultancy, and many more industry leaders. You'll also be subscribed to our email newsletter and notified whenever we publish new articles or have something interesting to share.
Browse hundreds of articles, containing an amazing number of useful tools and techniques. Many readers tell us they have doubled their sales by following the advice in these articles.
Download a free copy of our best-selling book
3. Join our team
If you want to join our team—or discover why our team members love working with us—then see our "Careers" page.
4. Contact us
We help businesses worldwide, so get in touch!
---
© 2023 Conversion Rate Experts Limited. All rights reserved.