How we helped a client become the fifth-fastest-growing company in the UK
The following is from our huge library of client successes—why not discover how we can help grow your business?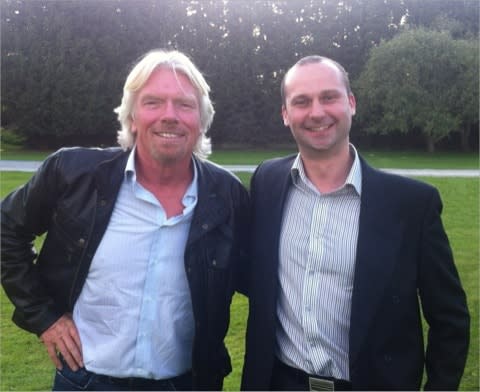 Here's some good news—for us and for you:
Good news for us: One of our clients, TopCashback, has been ranked number five in a list of the UK's fastest-growing companies.
Good news for you: The TopCashback team has kindly allowed us to describe what we did—with a focus on the techniques that are likely to be applicable to your own business. We can't promise that the following techniques will get you an invitation to Richard Branson's house, but we'd be amazed if some of them weren't hugely profitable for you.
The problem
Dubious. That's how a lot of people used to feel when they first visited the TopCashback website.
Meanwhile, TopCashback's owners wondered why more people weren't signing up. They thought their offer should be a "no brainer." They knew the site could be working harder, but they'd tried and tested a few tweaks without any discernible impact. And they were cautious of making larger changes for fear of disrupting the business.
The solution
Enter Conversion Rate Experts (CRE).
We described to TopCashback how we could get inside the heads of its visitors. And we reassured TopCashback we could do it in a measured, methodical manner—which wouldn't turn the business upside down or jeopardize its existing revenues.
What happened?
Conversion rates increased by as much as 74%, and TopCashback made it to number five in the 2011 Sunday Times "Fast Track 100" (a ranking of the UK's fastest growing private companies).
Here's how we did it. It's important to note that "we" refers to a team effort between Conversion Rate Experts (with our proven system) and TopCashback (with its valuable, well-positioned service and highly effective team).
Understanding TopCashback's value proposition
When we first learned about the TopCashback offer, we agreed that it really should have been a "no brainer":
You sign up with TopCashback.
You buy from any of the 3,400 affiliated sites.
You get great rebates from each of them, which are paid to you in hard cash (by bank transfer, through PayPal or, if you prefer, in the form of Amazon vouchers).
(For more details, see this description of how cashback works.) TopCashback claims to be the UK's most generous cashback site. It pays out at least 100% of the money it gets from its affiliates (sometimes even more). And it earns all of its revenue from online advertising.
Phase 1: Questions, questions
As with any Conversion Rate Experts (CRE) assignment, our first priority was to get authoritative answers to some important questions. Take a look at this useful description of the Conversion Rate Experts (CRE) Methodology, and you'll see why we believe that this sort of groundwork is an absolute pre-requisite for any successful conversion programme.
(i) Find out why people decide to "walk away"
It's always useful to talk to your customers. But it can be even more useful to understand the near-misses (people who could have been customers but ultimately walked away). So we used the survey tool 4Q to quiz the people who visited TopCashback but didn't sign up.
The feedback came flooding in:
Some people thought it was just too good to be true (the offers were so attractive they were actually deterring potential customers).
Others worried that they'd never receive their cashback.
The less-skeptical visitors were intrigued, but assumed that it would be too much hassle to collect their cash.
And then there were those who couldn't really understand how the website worked, or what was in it for them.
(ii) Find out what people like about you—and what they're saying about you to their friends
We spoke to people who had signed up, but we were careful to segment out the active customers from the less active ones. And we used another fantastic resource, Survey Monkey, to elicit the views of these respective segments. What did they like about the site? And what prevented them from using it more often?
Here's a useful tip when using survey tools: Don't put words into peoples' mouths. Wherever possible, use open-ended questions. Clearly, it's more time-consuming to go through the results. But you get real responses—rather than running the risk of simply reinforcing your preconceptions. If you force people to shoehorn their answers into a small number of "catch all" categories, you lose all of the rich insights.
This isn't just theoretical; it's powerful stuff. The use of open-ended questions helped to double the sales of one of our clients, Photoshelter.
(iii) Leave an open invitation for feedback
To ensure that we were collecting feedback from all of the site's pages, we created a persistent, sitewide "Give Feedback" button. This button provided an open invitation for visitors to speak their minds.
(iv) Find out where they're clicking
To help us understand which parts of the old and new pages attracted people's attention, we used Crazy Egg, which helped us determine the focus for our tests.
(v) Find out exactly what it's like to be a customer
Like every other CRE assignment, we became committed customers. We signed up for the service. Made our way through every phase of the funnel. Scrutinized every facet of the business. And looked out for any detail that had the potential to persuade or prevent a customer from committing.
(vi) Query an often-overlooked database: The brains of the customer support team
We also quizzed the team at TopCashback. We discussed the objections that were tough to address, and those that were easier to overcome. They also told us about their "fantasy tests" (those they'd always wanted to implement, but had never had the nerve).
Phase 2: Establishing the experimentation platform
By this stage, we had some really clear ideas about what would work. But, no matter how strong our instincts may be, we never run any risks with a client's business. Before releasing any changes into the wild, we test them scientifically.
There are many great platforms for carrying out split-testing. We've taken a critical look under the hood of almost all of them. And, because we're completely vendor-neutral, we're always free to specify the right tool for each job. On this project, we chose to use Google's split-testing tool.
Phase 3: Designing and testing the challenger pages
Next, we created a series of challenger pages, using the following process:
We created wireframes of the pages using Mockflow.
We tested the wireframes on users, including members of CRE's team, and iteratively improved them until we were satisfied that they would be effective.
We designed and coded the final pages.
We used Google Website Optimizer to split-test the pages against the originals, to verify that they were statistically significantly better.
(Again, you might want to take a look at the CRE Methodology for more detail on the nuances—and quirks—of how we work.)
The following sections describe some of the more interesting things we tested. All of our tests were based on the insights we gleaned from the research described above. As you read about them, note how different this approach is from indiscriminately applying so-called best practices (for example, adding a new starburst here, or a re-worded offer there). Our tests were valuable not because we were using "magic buttons" but because we were in a position to overcome clearly defined objections with bold, relevant changes.
Three messages we needed to get across loudly and clearly
Message #1: "TopCashback is NOT too good to be true."
The most important task was to anticipate and address the concerns of the skeptical visitors. From our arsenal of trust-building techniques, we knew we could win them over.
For example, our research had revealed that TopCashback had already picked up some great coverage from well-respected newspapers, like The Guardian and The Independent. So why not draw from the strength and reputation of these media brands by prominently placing their logos near the "Join" button?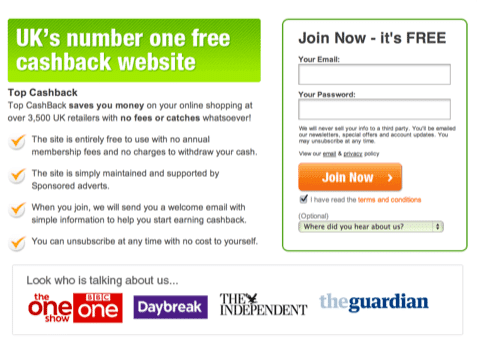 We also knew that we could address the trust issue by using existing, satisfied customers—so we looked at ways to improve the existing tell-a-friend program.
Together with TopCashback's team, we brainstormed the options. Here are some of the changes we made to the tell-a-friend program:
We added the referrer's name to the tell-a-friend landing page (making it more personal).
We made the calls to action more direct and compelling.
And we re-thought the tell-a-friend newsletter (to address objections and reinforce benefits).
Message #2: "Yes, it's suitable for you. Here's why."
It was also important to present the offer and the benefits in a clear, unambiguous manner.
So we developed a new headline for the homepage: "Save money every time you shop online!" This was combined with the new calls to action.
Again, no rocket science. And no hugely complex or disruptive changes. Just simple, research-driven improvements that could be applied within minutes.
Message #3: "Yes, it's quick and easy to benefit. Just take a look."
We saw that it was quick and easy for anyone to benefit from TopCashback. In fact, the sign-up process could hardly be quicker or easier. All you need to do is enter your name and email address and choose a password. That's it.
So we moved the super-short, super-simple sign-up form right up to the home page (it was previously lurking one layer down, which added to the impression that signing up may be long and complex).
We added the headline "Join Now—It's Free." And visitors could see, at a glance, exactly what they were getting into.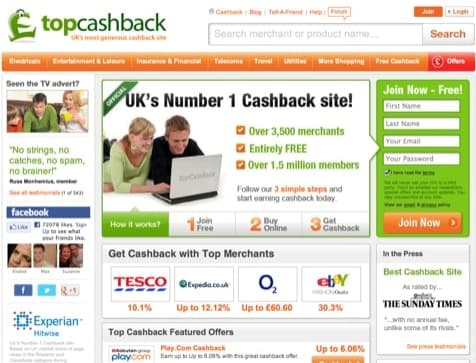 Apply the lessons elsewhere in the website
We also took these same lessons and applied them elsewhere in the website (especially where other sign-up flows were encountered). In particular, we used the clear benefit statements and media logos to support the calls to action.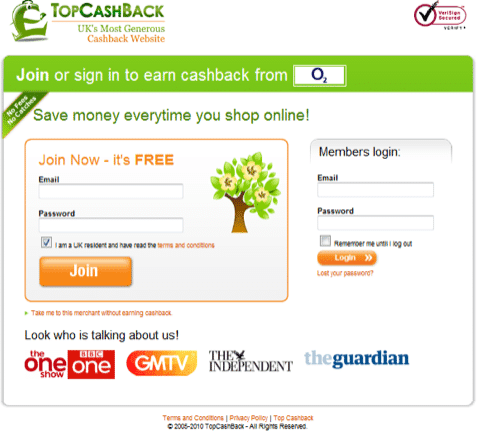 And, the results were…
Right from the start of our ongoing relationship with TopCashback, we began to achieve a series of significant uplifts in conversion rates—ranging from 17% on the homepage right through to 74% in one of the website's other key conversion flows.
If you consider that millions of people visit TopCashback, you can begin to appreciate the bottom-line impact of these improvements.
Based on the progressive uplifts in its business, TopCashback was soon able to justify a national TV advertising campaign (which again re-applied those early lessons). This drove more people to the site, who were more inclined to sign up. More positive media coverage was generated. And TopCashback was well on its way to becoming one of the UK's fastest growing private companies.

Lessons learnt so far
One of the joys of working with TopCashback is the company's infectious enthusiasm and its "can do" attitude. The team are particularly open to our collaborative way of working. And many of the proposed changes came out of joint brainstorming sessions.
If you want to hear what it was like to work with us, take a look at this interview with TopCashback's Operations Manager, Adam Bullock. Adam describes how we helped to change the culture of the company to one of rapid, bold implementation.
For us, the key takeaway from the assignment is the way that a few simple, non-disruptive techniques can achieve spectacular results. In particular:
Find out (not guess) why some people walk away. Addressing the objections of potential customers is incredibly important.
Find out what other people like. Really listen to what your existing customers are saying. One of the best ways to articulate your benefits is to use the words that they use.
Repeat changes throughout your website. If a change is effective, look for where else in the business it can be implemented.
And again, prioritize those low-hanging fruit. Make the simple changes that have a high chance of increasing your conversion rate.
A few words from TopCashback's Operations Manager
Want more case studies like this?
If you would like to see more of our clients' results, you can find a long, ever-growing list on our "Clients and Results" page.
---
What's your goal today?
1. Hire us to grow your company
We've generated hundreds of millions for our clients, using our unique CRE Methodology™. To discover how we can help grow your business:
Schedule your FREE strategy session
2. Learn how to do conversion
Download a free copy of our Amazon #1 best-selling book, Making Websites Win, recommended by Google, Facebook, Microsoft, Moz, Econsultancy, and many more industry leaders. You'll also be subscribed to our email newsletter and notified whenever we publish new articles or have something interesting to share.
Browse hundreds of articles, containing an amazing number of useful tools and techniques. Many readers tell us they have doubled their sales by following the advice in these articles.
Download a free copy of our best-selling book
3. Join our team (we're actively hiring!)
If you want to join our team—or discover why our team members love working with us—then see our "Careers" page.
4. Contact us
We help businesses worldwide, so get in touch!
---
© 2023 Conversion Rate Experts Limited. All rights reserved.