Grow your sales by creating urgency—featuring examples of scarcity from Booking.com and Garth Brooks
In exit surveys, visitors often report that they need to go away and think about it. Such responses are particularly common for purchases that are complex and non-urgent.
In such cases, you can usually increase sales by highlighting reasons for urgency.
How Booking.com creates urgency and scarcity
Booking.com is one of the world's most sophisticated websites. It makes it easy to identify—and book—great hotels. It's also masterful at identifying and communicating reasons for urgency and scarcity—which it does frequently throughout its booking flow. At every step, there is a genuine reason for the visitor to hurry up.
Let's have a leisurely browse around Booking.com now. In fact, let's look for a hotel in New York. Here's one: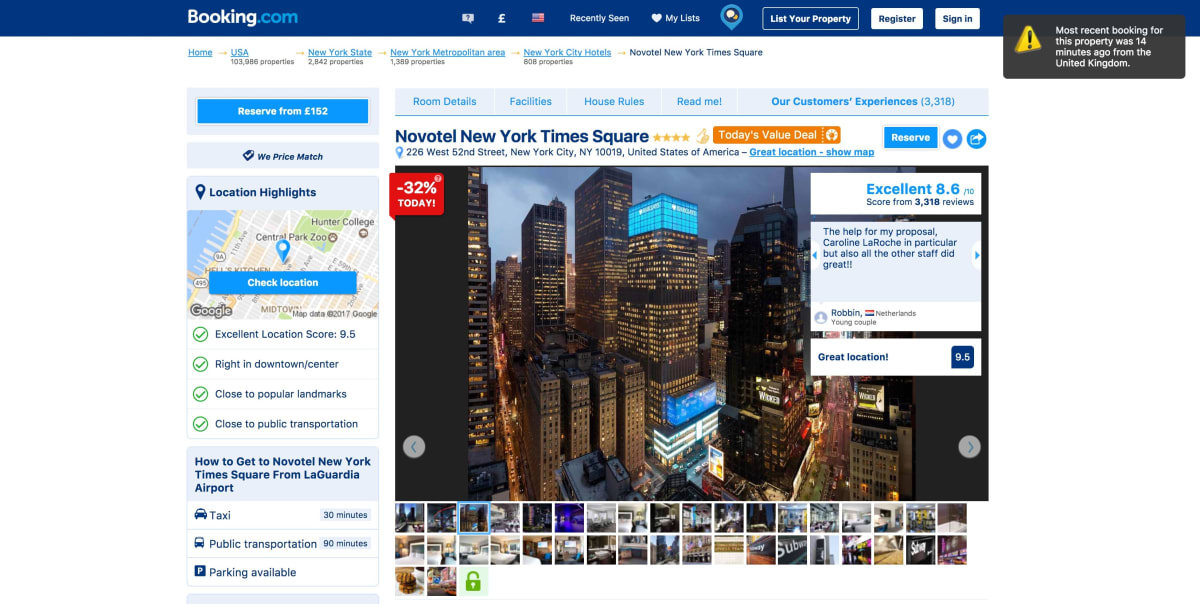 Within seconds of the page loading, the first notification appears in the top-right corner:

Note how the specific details make the urgency more palpable.
Almost immediately, another notification appears:

So now it's a competition!
Another notification appears:
So not only are rooms selling out, they are becoming more expensive!
And then: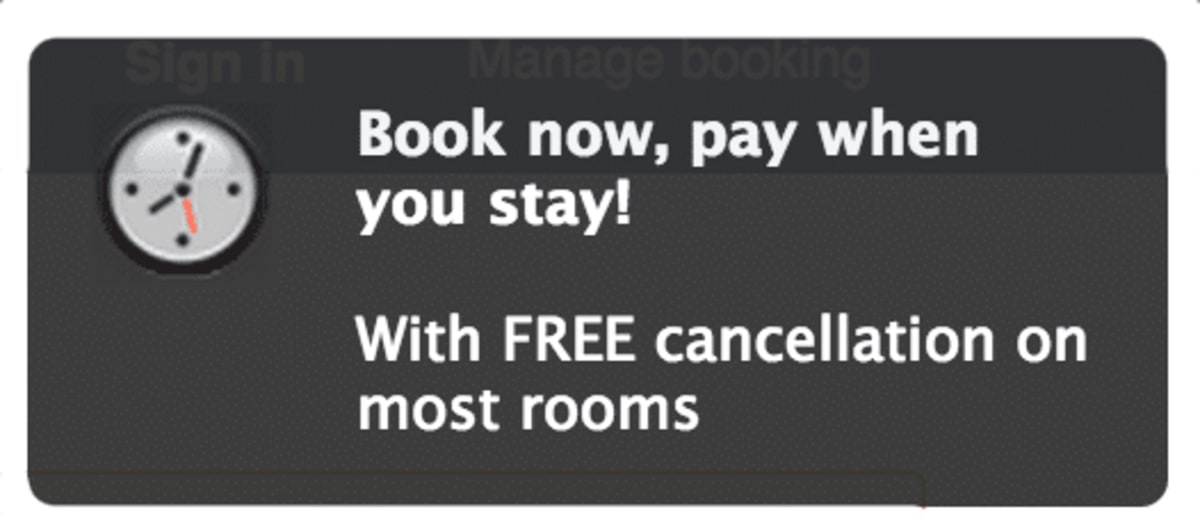 …which lowers the perceived risk of acting urgently.
A minute ago, we were idly browsing hotels. We didn't even know there was a Novotel hotel on Times Square. Now we are caught in a Black Friday-style stampede for it.
Notice how the page elements above don't just repeat the same message. Booking.com manages to express urgency in many subtly different ways.
Which singers do you NOT want to NOT see? (This headline will make perfect sense by the time you have finished this section, promise.)
Ticketmaster is another site that focuses on urgency. When you search for a concert, Ticketmaster reserves particular seats for you, then shows the following page:
See that timer in the bottom-right corner of the page? It's the only animated part of the page, so it flickers its message of urgency in the corner of your eye as you study the page.
This page doesn't just express urgency. It has turned the decision into a "fear of loss" one. The seat numbers have already been reserved for you; now you just need to decide whether to abandon them or not. According to Prospect Theory, changes that are framed as losses are weighed much more heavily than changes that are framed as gains.
Next thing you know, you have bought a $5,000 VIP package to see Garth Brooks.
But are you sure you chose to see him?
It's more accurate to say that you chose not to not see him.
How you can create urgency using rolling offers
In our experience, almost all businesses have genuine scarcity and urgency.
However, many companies manufacture scarcity and urgency, in the same way that they manufacture their products. Manufacturers of luxury goods, like Rolex, Ferrari, Louis Vuitton, build scarcity into their marketing plans.
Even if the product isn't scarce, the offer can be. Companies like Bose and Dell create rolling time-limited offers. For example, Bose might offer free accessories for anyone who orders by the end of the month. But what happens the following month? No more offer? Instead, the offer simply switches to another time-limited offer, which expires at the end of that month. Such offers allow the company to always have a reason for the visitor to act promptly. An extreme example of rolling time-limited offers is daily deals websites like Amazon's.
How much did you like this article?
---
What's your goal today?
1. Hire us to grow your company
We've generated hundreds of millions for our clients, using our unique CRE Methodology™. To discover how we can help grow your business:
Schedule your FREE strategy session
2. Learn how to do conversion
Download a free copy of our Amazon #1 best-selling book, Making Websites Win, recommended by Google, Facebook, Microsoft, Moz, Econsultancy, and many more industry leaders. You'll also be subscribed to our email newsletter and notified whenever we publish new articles or have something interesting to share.
Browse hundreds of articles, containing an amazing number of useful tools and techniques. Many readers tell us they have doubled their sales by following the advice in these articles.
Download a free copy of our best-selling book
3. Join our team
If you want to join our team—or discover why our team members love working with us—then see our "Careers" page.
4. Contact us
We help businesses worldwide, so get in touch!
---
© 2023 Conversion Rate Experts Limited. All rights reserved.